Dangers of Mixing Alcohol with Klonopin
Alcohol is an intoxicating, ethanol-based substance typically found in hard liquor, malt liquor, beer, or wine. Klonopin is the brand name for an anti-anxiety medication, with the generic name of clonazepam.
This medication is in the family of benzodiazepine medications, and therefore should not be combined with alcohol.

Take Our Substance Abuse Self-Assessment
Take our free, 5-minute substance abuse self-assessment below if you think you or someone you love might be struggling with substance abuse. The evaluation consists of 11 yes or no questions that are intended to be used as an informational tool to assess the severity and probability of a substance use disorder. The test is free, confidential, and no personal information is needed to receive the result.
It is possible to use both of these drugs responsibly, but unfortunately, many people struggle with addiction to these substances, either alone and in combination. It is important not to mix Klonopin and alcohol, even with a legitimate Klonopin prescription. It is also very important not to abuse these drugs, especially together, because they can quickly enhance each other's effects, which can lead to a higher risk of overdose, hospitalization, and death.
The Dangers of Mixing Alcohol and Klonopin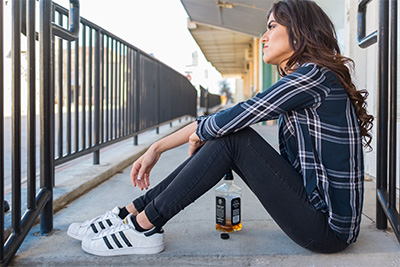 Both Klonopin and alcohol are CNS (central nervous system) depressants. In prescription doses of Klonopin, for anxiety or withdrawal symptoms, this helps relax and calm the individual so they feel better and can function normally. Unfortunately, this calming effect can be addictive. CNS depressants in combination lead to increased drowsiness as well as depressed breathing and heart rate. Because both Klonopin and alcohol are consumed orally, it is also possible that this slower method of metabolizing these substances can compound the risks of side effects over time, as more of the drugs enter the individual's bloodstream.The biggest danger of mixing alcohol and Klonopin is that these drugs enhance each other's intoxicating effects. In even small doses, this means that alcohol and Klonopin together can increase the individual's drowsiness or sleepiness, leading to a lack of coordination, which can amplify the person's risk of a serious fall injury. This can also mean the person will be difficult to wake up, which could lead to coma.
Depressed breathing or difficulty breathing is a dangerous side effect of mixing alcohol and Klonopin. Depressed breathing, or slowed breathing, means the individual is probably not getting enough oxygen. A symptom of lack of oxygen is pale or clammy skin, or blue tinting around the lips or under the fingernails. If left alone without emergency medical help, the individual could stop breathing and die. Other dangerous side effects of mixing clonazepam (Klonopin) and alcohol include serious impairment of physical coordination, which could lead to falls that cause brain damage or broken bones; reduced liver function; and memory problems.In a 2014 study conducted by the Substance Abuse and Mental Health Services Administration (SAMHSA), 32 percent of emergency room visits due to benzodiazepines led to serious outcomes for the patient, such as long-term health consequences or even death. Of those visits, 44 percent that involved a combination of benzodiazepines, like Klonopin, and alcohol resulted in serious medical outcomes.
Treating Alcohol Withdrawal with Klonopin or Other Benzodiazepines
If an individual suffers from addiction to alcohol, when they seek treatment to stop abusing this drug, their physician may prescribe a benzodiazepine medication like Klonopin to ease withdrawal symptoms. Anxiety and seizures are two symptoms of alcohol withdrawal, and benzodiazepines have been shown to be very effective at reducing these symptoms. This can help ease the individual's transition away from alcohol.
However, it is extremely important for the overseeing physician to carefully monitor the patient for signs of addiction to benzodiazepines. These medications carry their own risk of addiction and abuse. This can become particularly dangerous if the individual suffers a relapse and combines a Klonopin prescription with alcohol consumption.

Klonopin and Alcohol as Date Rape Drugs
Both alcohol and Klonopin are used as date rape drugs. These two drugs can, in large quantities, impair judgment and assessment of risk, as well as lead to temporary amnesia and extreme fatigue. Klonopin enters the bloodstream within 1-4 hours after ingestion, so while it does not act as quickly as other, more famous date rape drugs like Rohypnol, it is as likely in large enough doses to cause the individual to pass out. This is especially true when used in combination with alcohol, and it is harder to detect in alcoholic beverages.
Help for Alcohol and/or Klonopin Addiction
For people who suffer from addiction to either alcohol or Klonopin, it is important to get help as soon as possible to overcome the problem. If these addictions go untreated, the individual becomes more likely to abuse alcohol and benzodiazepines together in greater quantity, or to combine these drugs with other drugs like heroin, cocaine, prescription painkillers, or barbiturates.
Inpatient rehabilitation is often most effective for treating addictions to both alcohol and Klonopin. Medical oversight helps clients withdraw from the addictive substances safely, while social support from therapists and peers helps clients to uncover the roots of their substance abuse and find better coping mechanisms for stress and cravings. In addition, inpatient rehabilitation removes clients from sources of alcohol and Klonopin, as well as takes them out of a stressful environment that might trigger a relapse, so they can wholly focus on getting healthy.