Executives of a leading opioid company found guilty of racketeering
The Saga Continues…
After several months of high-profile lawsuits against some of the country's biggest opioid companies filling the headlines, we have reached what is perhaps the most dramatic episode yet. Earlier this month, a federal jury convicted top executives at the pharmaceutical producer Insys Therapeutics of bribing doctors to hock its fentanyl-based painkiller, among other crimes.
The jury's decision is the latest indication that the government and the public are finally willing to hold pharmaceutical companies accountable for their part in perpetrating what is arguably the worst public health crisis the country has ever faced.
Bribes and Lies
The company's founder, John Kapoor, along with four other former executives, were found guilty of criminal racketeering. The case made by prosecutors over the course of a 10-week trial cataloged Insys's zealous scheme to push its patented, addictive opiate Subsys by any means necessary. The company's executives were accused of bribing doctors to prescribe the drug with "perks," such as lucrative payments for fake educational talks and even lap dances in some cases, per the New York Times. Moreover, prosecutors said Insys misled insurers about patients' need for Subsys so that they would pay for the expensive drug, advocating for its use in cases other than its approved use of treating cancer patients.
Even Insys's more legitimate methods of marketing Subsys were an abomination, in a certain sense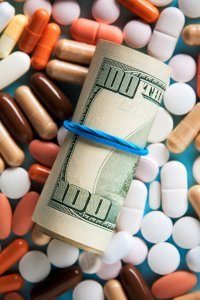 And by all indications the scheme worked. At its peak, Insys was raking in over $300 million in sales annually.
An Industry in Legal Peril
The Insys verdict comes amid a frenzy of other legal actions taken against pharmaceutical companies. In April, two former executives of the pharmaceutical distributor Rochester Drug Cooperative were charged with drug trafficking and defrauding the DEA. It was the first time the federal government filed a criminal indictment against a drug company for its role in perpetuating the opioid epidemic.
Barely a week later, McKesson Corporation, the largest pharmaceutical distributor in the U.S., reached a $37 million settlement with the state of West Virginia. According to the New York Times, the company was accused of shipping nearly 100 million doses of hydrocodone and oxycodone to West Virginia residents over a six-year period, enough to supply every patient in the state with nearly 3,000 doses. But the McKesson settlement paled in comparison to the one reached in March by the state of Oklahoma and Purdue Pharma, makers of the addictive opioid OxyContin, who settled out of court for a whopping $270 million.
Though the recent activity seemingly came out of nowhere, this denouement has in fact been a long time in the making. The flood gates opened in 2007 when Purdue was fined over $600 million by the feds for misleading marketing practices, while three of its top executives were sentenced to three years probation. The ensuing decade saw a steady increase in lawsuits against opioid manufacturers and distributors, including many more cases filed against Purdue (see here for a closer look at the legal troubles plaguing Purdue and its owners, the Sackler family).
By the end of 2018, hundreds of lawsuits had been filed against drug companies by numerous state and local governments, including the states of Florida, Nevada, North Carolina, North Dakota, Texas, and Tennessee, as well as cities such as New York, Philadelphia, and Chicago.
A Cure for the Epidemic?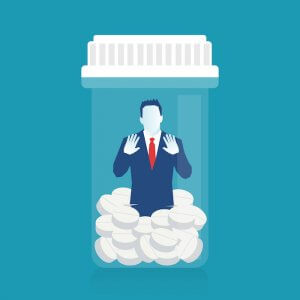 The opioid epidemic has done untold damage over the past two decades. More than 700,000 people in the U.S. have lost their lives to drug overdoses since 1999, including over 70,000 in 2017 alone. Most of those overdoses were opioid-related. It's gotten so bad that even Congress agrees it's a huge problem.
Yet, in spite of this consensus, addiction treatment remains severely underfunded while recent legislative efforts to address the epidemic have left much to be desired.
But the Insys case and its predecessors perhaps offer a way to keep opioid makers and distributors in check. Richard C. Ausness, a law professor at the University of Kentucky who has been tracking opioid cases, told the New York Times that this criminal racketeering verdict "raises the stakes by a lot," adding that "[t]his could be the tip of the iceberg as far as drug company misconduct is concerned."
It may be overly optimistic to hope that legal action against drug companies alone can provide a cure for the opioid epidemic, but to overcome such a seemingly insuperable and impossibly complex problem every little bit helps.
_____
Read More from Kevin Schwartzbach:
_____
Photos Courtesy of Shutterstock