Lower the Risk of Prescription Pill Abuse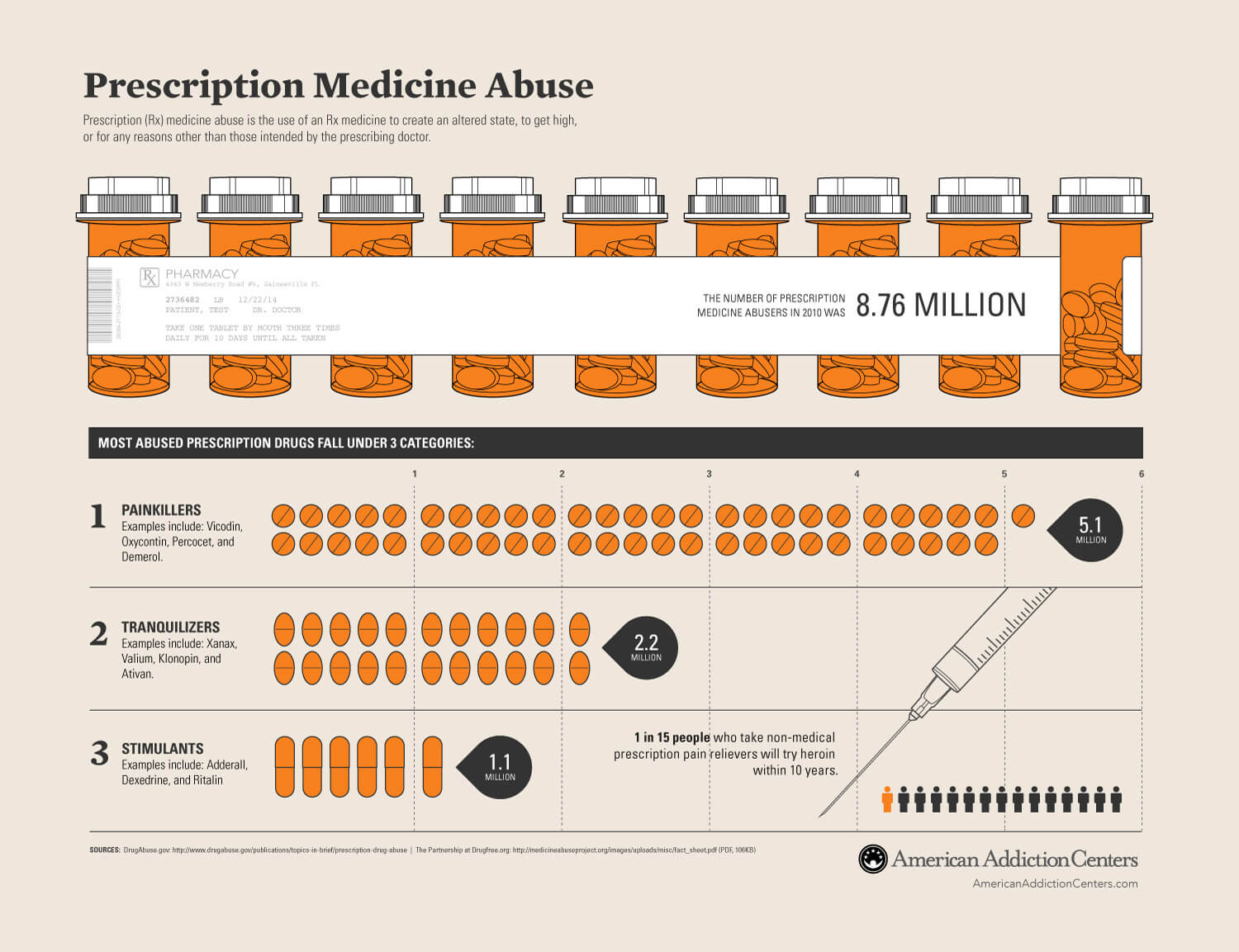 January 15, 2015
Prescription Medicine Abuse
Prescription (Rx) medicine abuse is the use of an Rx medicine to create an altered state, to get high, or for any reasons other than those intended by the prescribing doctor.
Many people think that addiction is limited to illegal substances like cocaine and heroin, and drug abuse only develops as a result of a concerted effort to consume as many drugs as possible. However, many people with a drug addiction never purchase illegal substances in their lives. Instead, they obtain legal prescription medications from physicians and any combination of factors coalesce into a serious habit of abuse.
According to the National Institute on Drug Abuse, almost 7 million Americans – or 2.7 percent of the U.S. population – abuse prescription pills. Of this number, 5.1 million are addicted to painkillers, 2.2 million abuse tranquilizers, 1.1 million overuse stimulants and 0.4 million abuse sedatives.
MOST ABUSED PRESCRIPTION DRUGS FALL UNDER 3 CATEGORIES:
To ensure that family, friends and loved ones do not fall prey to prescription pill abuse, Psych Central explained that it is important to communicate with physicians about the right and wrong ways to self-administer prescribed medications. Even though doctors are not around to monitor the amount of pills their patients take, there are still some methods people can use to keep themselves safe.
Lower the Risk of Prescription Pill Abuse by Using the SAFER Method.
Speak up: Patients need to tell medical professionals if they have any history of chemical dependence.
Ask questions: It is always better to leave the hospital with more information than more unanswered questions.
Find the facts: Medications can have hidden complications with other conditions, so research each pill prescribed by a physician.
Evaluate your choices: Some medications may have unavoidable side effects, and people should weigh the impact these will have on their lives with the consequences of not taking their medicine.
Read the label: If all else fails, prescription pill labels should include the most important information people need to know, including when and how to take the medication. Read the label every time before taking a pill.