Culinary Health Fund Insurance for Drug & Alcohol Rehab
* These fields are required

Does Culinary Health Fund Cover Rehab?
Culinary Health Fund benefits may be able to cover all or at least part of the cost of rehab. This will depend on your plan details and the level of care you need. Even if you have insurance coverage in another state, you may still be covered to attend rehab in another state. Contact us to discuss more at .
How to Verify Culinary Health Fund Insurance Coverage
There are two ways to verify your coverage for drug or alcohol rehab.
Call us today at where an admissions advisor can hear your story, walk you through your options, and verify your insurance over the phone.
Fill in our online insurance verification form below.
What Does Culinary Health Fund Insurance Cover?
Culinary Health Fund may be able to cover substance use disorder treatment and depending on your plan, may cover at least part of the cost of:
Inpatient or Residential Rehab
Outpatient Rehab
Does The Culinary Health Fund Cover Co-Occurring Disorder Treatment?
Co-occurring disorder treatment such as treatment of depression or anxiety as well as addiction treatment may be covered under mental or behavioral health services. Depending on your level of coverage, mental health treatments may at least be partially covered.
Our Treatment Centers Near You
About the Culinary Health Fund
The Culinary Health Fund, also known as The Fund, provides healthcare insurance to culinary workers in Las Vegas, Nevada.1 The Culinary Health Fund currently provides medical, dental, pharmacy, and eye benefits to 55,000 participants and their 70,000 dependents.1 The Culinary Health Fund offers a PPO plan and to be eligible, participants must have worked at least 360 hours in 3 consecutive months or about 30 hours per week for 3 months.2,3
Insurance Coverage Survey
Rehabs That May Accept Culinary Health Fund Insurance
American Addiction Centers (AAC) owns and operates facilities at various locations nationwide to provide you or your loved one addiction and mental health care.
About The Contributor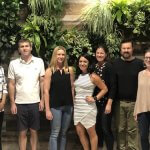 The editorial staff of American Addiction Centers is made up of credentialed clinical reviewers with hands-on experience in or expert knowledge of ad … Read More
---