Geisinger Health Plan is In-Network with AAC
Geisinger Health Plan Insurance Coverage for Drug and Alcohol Rehab Treatment
Yes. Geisinger Health Plan covers drug and alcohol rehab.
American Addiction Centers (AAC) aims to provide you with the most current and updated information on addiction insurance coverage.
* These fields are required

Geisinger Health Plan Insurance Cover Drug or Alcohol Rehab?
If you have Geisinger health Plan insurance, drug and alcohol rehab, substance abuse treatment and mental health services may be covered. Depending on the state and facility your addiction treatment and rehabilitation could be covered. If you are unsure about your benefits and need clarification about what services are covered with Geisinger, you can confirm your benefits online.
How to Check Geisinger Coverage
At American Addiction Centers (AAC), we offer treatment for substance abuse and co-occurring health issues. We can help you choose a treatment program based on your insurance plan and individual needs.
There are several ways to verify your benefits. You can call one AAC's admissions navigators at Or you can use our benefits verification form to check your coverage online.
American Addiction Centers strives to provide you with the most updated information on each carriers' addiction insurance coverage but policy changes and errors do occur. Please check with your insurance carrier directly to confirm coverage levels.
How Does Geisinger insurance Coverage Work for Substance Abuse Treatment?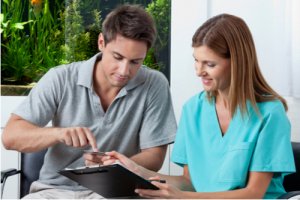 Substance abuse treatment will most likely require a preauthorization, a process by which your insurance provider deems a service, drug, or medical equipment medically necessary. However, a preauthorization is not a guarantee of coverage.
If you receive substance abuse treatment, you are more than likely going to pay a co-pay, deductible, co-insurance, or a combination of the 3 for the services you receive. You can contact your insurance provider to obtain specifics on what your deductible, co-pay, and co-insurance amounts are.
Types of Treatment Options Typically Covered
For certain substances, medical detoxification may be required to help you safely and more comfortably manage withdrawal.
There are many different types of treatment for addiction. During an assessment, an addiction treatment professional can explain the types of services offered and which form is treatment is best suitable for you. It is important to disclose facts about your substance abuse problem, including how long you've been using, the type of drug(s) you use, the amount you use, and your frequency of use.
For certain substances, medical detoxification may be required to help you safely and more comfortably manage withdrawal. Detox is often the first step in substance abuse treatment, as many people continue with some form of rehabilitation or care after successful management of the withdrawal period. Other types of care that may be suitable for you include inpatient or residential treatment, standard outpatient therapy, intensive outpatient therapy, and partial hospitalization programs.
Inpatient or residential treatment is a type of service in which you stay for days or even weeks at a treatment facility. As part of many inpatient programs, you have access to medical and psychiatric care and participate in activities such as support groups, individual therapy, group therapy, and relapse prevention groups with the goal of learning skills to cope with life without the use of drugs or alcohol.
Partial hospitalization programs (PHPs) are similar to inpatient programs, except you return home at night. They can meet up to 7 days a week, and they run for several hours at a time.
Intensive outpatient therapy (IOP) usually occurs 3 to 5 days a week for a few hours at a time. PHPs and IOPs are sometimes used as additional avenues of ongoing treatment after completion of a residential program. Depending on the length and severity of your addiction, you may be referred directly to an IOP program.
Outpatient therapy is the least intensive treatment option. Regular outpatient counseling may serve as an outlet for stress management and the reinforcement of other sobriety-promoting behavioral changes to assist you in dealing with the challenges of life effectively without using drugs or alcohol. Outpatient can be a follow up to a higher level of care or serve as someone's primary mode of treatment.
Medications
What Is Geisinger Health Plan?
Geisinger is a healthcare services company located in Danville, Pennsylvania. It owns and operates outpatient facilities, medical centers, hospitals, children's hospitals, rehabilitation hospitals, and research centers. Its primary areas of focus are cancer treatment, heart services, neuroscience, orthopedics, pediatrics, transplants, and women's health.1
Geisinger also offers health plans to seniors, individuals, families, and employers. Health plans that are offered through Geisinger include:
Rehabs That May Accept Geisinger Health Plan Insurance
American Addiction Centers (AAC) owns and operates facilities at various locations nationwide to provide you or your loved one addiction and mental health care.
About The Contributor
Jacquelyn Buffo, M.S., L.P.C., C.A.A.D.C., is a licensed professional counselor with experience and expertise in substance abuse and mental health is … Read More
---