Find Local Addiction Treatment Center near San Francisco
Addiction treatment is available in San Francisco to help you or your loved one experience a safe, successful, and fulfilling recovery from a substance use disorder. Discover more about substance abuse in San Francisco and how you can find a nearby quality, accredited addiction treatment center.
Statistics about San Francisco
Heroin
,
alcohol
, and
methamphetamine
are the most commonly used substances in San Francisco.
1
In 2017, an estimated 42.2% of admissions to San Francisco addiction treatment centers were for heroin, 20.3% were for alcohol, and 19% were for methamphetamine.
1
The use of methamphetamine in the San Francisco area is most prevalent among people between the ages of 26 and 44, with 60.9% of treatment admissions falling into this age group.1 For those that received treatment for their heroin addiction, 25% of them also abused crack or cocaine and 22% also you methamphetamine.1 In 2017, there were 54 overdose deaths in San Francisco related to prescription opioids. An estimated 43% of these deaths involved cocaine, and 22% involved methamphetamine.1
Why San Francisco?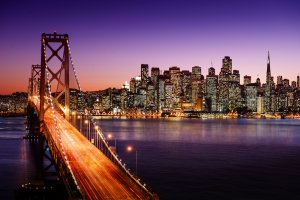 San Francisco is the fourth most populated city in
California
and the second-most densely populated large U.S. city. Well known for its
Golden Gate Bridge
and
cable cars
, San Francisco is steeped in history that lends to its rich, diverse culture. This city has so much to offer that makes it worth visiting for those who want to recover from addiction.
Located right atop the Pacific shoreline, San Francisco has a Mediterranean climate with mild winters and warm summers. The average yearly high in San Francisco is about 64 degrees, while the average yearly low is about 50 degrees. Humidity levels remain relatively high year-round given the city's proximity to the ocean.
In addition to the Golden Gate Bridge, some of San Francisco's most popular attractions and points of interest include Fisherman's Wharf, Alcatraz prison, Chinatown, and the Palace of Fine Arts. The city is also home to a wide range of performing arts centers, beaches, parks, and museums, including the San Francisco Museum of Modern Art. Sports enthusiasts can go to Oracle Park to watch the San Francisco Giants play baseball, to Levi's Stadium to watch the San Francisco 49ers play football, or to Chase Center to watch the Golden State Warriors play basketball.
People in San Francisco have several public transportation options, including light rail, subway, buses, trolleys, and historic cable cars. Cycling is also a popular mode of transportation, as are ride-sharing services. With its extensive freeway system and various transportation options, traveling from one destination to the next in San Francisco is rarely problematic.
Why Choose American Addiction Centers?
American Addiction Centers offers a nationwide network of facilities, an alumni support system, quality care, and a 90-day promise. If a person relapses after completing 90 days of treatment at an AAC program, they can return for 30 days of complimentary treatment.
Additionally, American Addiction Centers alumni from across the country host fun gatherings and events while alumni coordinators check-in regularly to ensure those recovering from substance abuse benefit from continued support.
Start Your Recovery Today
At American Addictions Centers we focus our treatments around healing the body, mind, and spirit. At our treatment centers we offer a wide range of treatment options and different levels of care to best fit our patients needs on their road to recovery.
You owe it to yourself to work with our experienced team of doctors, clinicians, and counselors to create a one-of-a-kind, constantly evolving treatment plan designed to help you get the most out of your recovery experience. Our goal is to treat the whole person, and that means addressing co-occurring mental illness, physical wellness, social issues, and more.
As Orange County's first chemical dependency recovery hospital, Laguna Treatment Hospital provides research-based clinical and support services for adults suffering with drug and/or alcohol addiction and co-occurring mental health disorders. The hospital has the expertise to care for most patients, including those who are medically compromised and require 24/7 medical care through its unique medical model for addiction treatment.
More Ways to Get Help
Sources:
Coffin, P.O. & Rowe, C. (2018). San Francisco Sentinel Community Site (SCS) drug use patterns and trends, 2018. National Drug Early Warning System.