San Francisco Drug & Alcohol Rehab Treatment Centers
Instantly find your coverage information.
We'll be able to tell you if your insurance provider is in network with an American Addiction Centers treatment facility.
* These fields are required

As the cultural and financial center of northern California, San Francisco is a thriving city of just over 881,000 people.1 Because of its dense population and large supply of public resources, many people choose to come to San Francisco to heal from substance abuse and attend professional rehabilitation.
In 2019, there were a whopping 8,309 treatment admissions in San Francisco County.2 If you're looking to find San Francisco drug treatment programs, American Addiction Center's California treatment center and other renowned nationwide facilities serves as your ideal first step in getting sober.
Where is Addiction Treatment Located in San Francisco?
There are roughly 34 drug rehab centers in the Bay Area in locations such as Fresno, San Jose, and the silicon valley, and many San Francisco area rehabs are located in the heart of the city itself.3 You'll find numerous San Francisco drug treatment programs in city districts such as Western Addition, the Mission District, Hayes Valley, and quieter surrounding neighborhoods.
While American Addiction Center's California rehab, Laguna Treatment Hospital, is located in Southern California, it's still an excellent choice for San Francisco residents. It's about 6 hours and 45 minutes away from San Francisco, meaning it's a great choice if you prefer to get away for treatment.
What is the Cost of Rehab in San Francisco?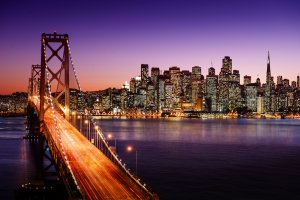 Costs vary between treatment centers, patients, and particular services rendered, but most San Francisco rehabs accept some form of private or state-funded insurance. In the entire state of California, 58.3% of facilities accepted private health insurance while 25.4% accepted state-financed health insurance. That isn't counting Medicare and Medicaid, which are accepted by 35.8% and 65.5% of facilities, respectively.4
Even if you don't have insurance, you still have options at your disposal. Nearly 45% of California facilities offer treatment at no charge or accept a minimal payment for clients who don't have enough money to afford care. An additional 58.4% offer a sliding fee scale so you can pay for your services based on what you can afford. And cash is always an option; 89.8% accept this form of payment.4
Additionally, various treatment centers in the San Francisco bay area also offer free drug detox centers or accent Medicaid or Medi-Cal.
If you choose rehab at Laguna Treatment Hospital, you'll be able to use many private insurance plans through large companies such as Kaiser Permanente, Blue Cross Blue Shield, TRICARE, and United Healthcare.
Do Rehab Centers in San Francisco Treat Drug & Alcohol Addiction?
San Francisco and Bay Area alcohol and drug addiction treatment centers do treat all forms of addiction, including drug and alcohol addiction. That's because people in San Francisco suffer from a wide range of addictions. In particular, heroin abuse was the top reason for admission to San Francisco treatment centers. Alcohol and methamphetamine are among the other common substances involved among substance abuse treatment admissions in San Francisco.2
While some treatment centers in San Francisco focus solely on one type of addiction or sector of the population, that usually isn't the case. Most drug rehabs in San Francisco serve all types of addictions and populations to help as many people as possible.
AAC helpline representatives are currently available confidentially assist you in finding addiction treatment in California. Give us a call at There, you can learn more about our substance abuse treatment program in California.
Other Ways to Get Addiction Help in San Francisco
Common San Francisco Rehab & Addiction Statistics
Heroin was San Francisco's most abused substance in 2019, accounting for 3,743 treatment admissions.2
Alcohol, methamphetamine, cocaine/crack, and prescription opioids were the other most abused substances, accounting for 1,745, 1,356, 476, and 464 admissions, respectively.2
Between 2005 and 2010, experts estimate that 21.9% of people in the San Francisco-Oakland-Fremont metro area used an illicit drug in the past year.5
An estimated 10.8% of people in the San Francisco-Oakland-Fremont metro area were classified as having a substance abuse disorder between 2005 and 2010—a higher rate than the national average of 9%.5
An estimated 22.1% of people in the San Francisco-Oakland-Fremont metro area binged alcohol between 2005 and 2010.5
Deaths related to opioid use increased from 104 in 2016 to 237 in 2019 and 68% of these fatalities were attributed to fentanyl.2
Take Our Substance Abuse Self-Assessment
Take our free, 5-minute substance abuse self-assessment below if you think you or someone you love might be struggling with substance abuse.  You do not have to be located near or in San Francisco for this evaluation to benefit you. This evaluation consists of 11 yes or no questions that are intended to be used as an informational tool to assess the severity and probability of a substance use disorder. The test is free, confidential, and no personal information is needed to receive the result.
FAQ About Drug & Alcohol Rehab Treatment in San Francisco