How will I know I've found the best alcohol rehab program?

At the very least, alcohol rehab programs should provide medical detox, followed by therapy conducted by a licensed professional. The best programs will customize their treatment programs to meet your needs, and they will assist you long after the program is complete, so you can avoid relapse when you return to your community.
Table of Contents
---
The recognition of an alcohol abuse disorder or addiction problem is a huge step for a person struggling with either issue.

Once this realization is made, the next steps can often seem challenging, confusing, and discouraging. One of these steps is beginning the process of finding a rehab program that is most likely to help the individual achieve and maintain recovery.
Knowing what to look for in the best alcohol rehab programs can help remove some of this confusion, making it easier to begin the process and find the program that offers the right methods, treatments, and tools to motivate and manage continued recovery for the person who is ready to enter rehab.
Why Rehab?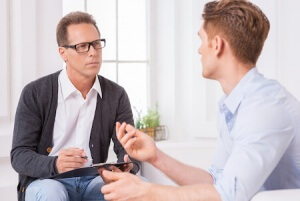 Studies have shown that people who get professional help in treating their addictions are more likely to be able to maintain long-term recovery than those who try to handle it on their own. In fact, a study in the journal
Addiction
shows that this is overwhelmingly true – not only did 62 percent of people who had professional help in treating their addiction succeed in maintaining their recovery for three years, but another 60 percent of those who had made it three years avoided relapse up to 16 years after treatment.
Another reason to select a professional rehab center is the fact that alcohol withdrawal can be dangerous, and even deadly. As demonstrated in a study from the journal Alcohol and Alcoholism, more than 6 percent of people who were treated for alcohol withdrawal symptoms in the hospital died from those symptoms. Responses to withdrawal can include seizures and a condition called delirium tremens (DTs) that may result in death if professional medical treatment is not administered.
---
For these reasons, finding a rehab center that can provide medical detox, and professional treatment and therapy, is particularly important for alcoholism detox, withdrawal, and treatment.
---
Residential Treatment for Alcoholism
The first thing to look for in an alcohol rehab center is inpatient or residential care. Experts agree that residential care provides the types of treatments and therapies most likely to help an individual struggling with addiction reach and maintain recovery.
Residential or inpatient programs provide an ability to focus fully on treatment that is not available through outpatient or mutual support group treatment programs. Each day, activities and therapies are offered that help build the tools the person can use to achieve recovery from alcoholism and maintain sobriety after treatment is complete.
Customized Treatment
The best alcohol treatment centers provide customized, focused care that is designed to meet the specific needs of the individual rather than a generalized program that treats everyone the same. Individualized treatment is seen as the best way to encourage an individual to complete the rehab program and maintain recovery after treatment is complete.
Part of this is simply due to the fact that people need to be motivated to complete the program and continue the practices they have learned afterwards in order for the treatments to have a positive effect. In an article from
Alcohol Research & Health
, individualized programs are described as one way to maximize the ability to motivate clients to achieve recovery and maintenance.
Medically Supported Rehab
Along with medical detox, there are specific options for medically supported rehab from alcohol addictions that research has shown are able to help people control and manage their cravings for alcohol. Among these treatments are naltrexone, disulfram, acamprosate, and topiramate. According to an article from the journal American Family Physician, these medications have been shown to increase abstinence rates and improve the ability to maintain recovery from alcoholism.
These medications primarily work by changing the individual's response to alcohol. Some of the medications do so through a negative feedback loop, by making the person feel sick when drinking. Others seem to reduce cravings for alcohol, or interrupt the pleasure response that the person gets from drinking to lessen the desire for alcohol. Some seem to provide more effect on abstinence rates than others, but all have the potential to help.
While these medications are not necessarily the best response in the long-term, they can help people reduce their desire for alcohol through the course of rehab – and even beyond – until the other tools and processes developed through recovery are established enough to maintain recovery without the help of medicine.
---
While medical detox addresses the physical aspect of addiction, psychological treatment is needed to understand and manage addictive behaviors. These therapies make it possible for a person recovering from alcoholism to recognize mental and emotional patterns that occur before an episode of drinking, enabling the person to formulate alternative responses and implement strategies that can help them avoid drinking alcohol.
Cognitive Behavioral Therapy (CBT) is one of these therapeutic treatments. In this therapy, individuals learn to recognize and understand certain behaviors and analyze their potential response before they do it. This additional consideration can give them needed time to implement strategies and tools that they devise to help them change their behavior pattern. Individuals effectively reprogram their thought processes to lead them away from the decision to use alcohol in response to these situations, instead redirecting themselves to more positive behaviors.
A study in The American Journal of Psychiatry showed that CBT is not only effective during and immediately after treatment, but that it also is likely to result in a continued and even increasing capability to maintain recovery in the long-term after treatment is complete. Programs that use this type of research-backed psychological treatment tend to be those that prove more successful in extending recovery, compared with those that do not provide this type of training.
Other psychological treatment options that can augment a customized treatment program include:
Trauma-focused therapy for those who need it
Therapy to build relationship support structures and self-esteem through interpersonal therapy
Family therapy to encourage familial support
Dialectical Behavior Therapy, especially for co-occurring conditions, to support change in thought processes
Alcoholism often co-occurs with other psychological disorders; these conditions can either precede or result from the alcohol dependence. They are challenging because they may become interconnected with the addiction, making it difficult to treat one issue without also treating the other. In addition alcoholism can cause or be accompanied by other physical ailments that may need to be treated at the same time as the addiction.
When it is a possibility that the alcoholism is accompanied by an underlying or co-occurring psychological issue, it is important to seek a rehab center that has the ability to treat these additional disorders. Many experts, including the National Institute of Drug Abuse, agree that a principle of effective treatment for a person struggling with substance addiction is to treat that person's specific needs, and that no single treatment is going to work for all individuals who need treatment.
For these reasons, it's important to consider whether or not the selected treatment center has the ability and experience to customize the program for the individual needs of the client, including considerations for any co-occurring disorders, as well as other medical, social, and environmental concerns.
Maintaining Sobriety after Treatment
Perhaps the most telling sign of a treatment program's quality is its ability to provide strategies and tools that will help the person in treatment avoid relapse after treatment is over. This can be provided through techniques taught throughout the rehab program, and also through sharing resources that are available to the person after rehab is over.
Actions such as Motivational Interviewing, given through phone calls at follow-up intervals after treatment, can remind individuals of their commitment to recovery, so they can avoid slipping back into old habits. An article from Alcohol and Alcoholism shows that this particular form of treatment can be helpful in reducing alcohol consumption. Introducing individuals and their family members to peer support groups and fellowship programs can also provide this regular motivation.
---
Rehab centers must take the whole individual into account and provide services that are most likely to meet that specific person's needs for treatment.
---
With client-focused care and research-based practices, these centers are the ones that are most able to motivate a person to complete the rehab program and move forward into a life of continued recovery from alcoholism.