How to Help an Alcoholic: A Guide to Support & Recovery
Helping a loved one with an apparent alcohol misuse problem may be a tricky pursuit—but doing so can prove impactful and rewarding for your relationship with your loved one. Here, we'll show you how to help a loved one that may or may not have an alcohol use disorder.
If your friend or family member appears to be struggling with alcohol, you may be feeling afraid and helpless. This guide will show you effective ways to talk to your loved one about their drinking, how to find them the proper professional help, and how to support them while they are in treatment. Perhaps most pertinent, you'll discover how to care for yourself during this entire process. After reading our guide, you'll be able to better understand your loved one's situation, foster greater compassion for them (and yourself), and understand how to make the best decisions possible regarding their treatment and recovery.
When Does Alcohol Abuse Become a Problem?
For most people, alcohol use is not a problem. Many people are social drinkers, with around half of all US adults reporting drinking alcohol in the past month. Others engage in binge drinking or struggle with an alcohol use disorder – both of which are considered unhealthy forms of alcohol use.
Binge Drinking
Binge drinking is defined by the National Institute on Alcohol Abuse and Alcoholism as drinking that raises your blood alcohol level to 0.08 or higher. Generally, to reach this blood alcohol level, men need to have 5 or more standard drinks in 2 hours; women need 4 standard drinks. Binge drinking 5 or more times per month is defined as heavy drinking. In 2019, around 25% of people age 18 and older reported that they engaged in binge drinking in the past month and around 6% of adults reported heavy drinking in the past month.1
Binge drinking is a hazardous pattern of alcohol use that puts a person at risk of developing an alcohol use disorder, which is detailed below. It may also result in other serious consequences, including:2
Auto crashes, resulting in serious injury and death.
Increased rates of violence, including domestic violence, sexual assault, and homicide.
Increased rates of STDs and unplanned pregnancy, due to lowered inhibitions while drinking and increased risky sexual activity.
Increased rates of cancer of the mouth, breast, liver, intestines, and stomach.
Higher rates of chronic diseases, such as strokes and heart attacks.
Problems with memory and cognition.
Signs of an Alcohol Use Disorder
An alcohol use disorder is a treatable, persistent medical illness characterized by the compulsive use of alcohol despite the negative consequences for your brain, body, and overall life that stem from drinking.
Experiencing any of these challenges may be an indication that a person is engaging in at-risk alcohol use and unhealthy drinking. If you believe you or someone you love may need help with an alcohol use disorder, let American Addiction Centers help you. Call our toll-free, confidential alcohol hotline at
Talking to Someone With a Drinking Problem (Intervention)
Talking to your loved one who engages in unhealthy or hazardous drinking can be extremely effective and constructive if done tactfully, with compassion, and with the proper tools. The process of confronting someone with a substance use disorder in a nonthreatening manner is known as an intervention.
Although your loved one may be exhibiting signs of an alcohol use disorder—such as regularly drinking more than indented, an inability to cut back on their alcohol use, or mounting financial, interpersonal, and professional issues—it may be counterproductive to point these problems out to your loved one directly. A statement such as "Your constant drinking is causing problems in our relationship," casts blame upon your loved one with bold or presumptuous comments that may respond defensively, curtailing your chances of having a clear and constructive conversation.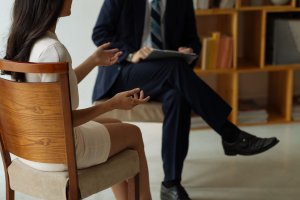 Expressing your concern, disappointment, or sadness before highlighting any of their wrongdoings may elicit a more open or positive response from your loved one. There is a chance that your loved one is privately concerned for themselves and hasn't shared this with you yet, and your caring comments could open a door to further conversations and actions.4
In addition to avoid casting guilt or blame on your loved one, you should also avoid taking on responsibilities for your loved one, enabling your loved one's at-risk drinking, or drinking with your loved one.4
Learn more about how to talk to a loved one with a drinking problem by visiting our page "How to Talk to an Alcoholic".
Codependency and Alcoholism
Codependency refers to the state of being mutually reliant on your partner to the point where the relationship becomes dysfunctional, disproportionately dependence-oriented, and sometimes even addictive.5 When your spouse has an alcohol use disorder, you may struggle with codependency. Codependency is a learned behavior  that can prevent someone from having a healthy relationship. A person is in a codependent relationship with someone with an AUD when the needs of the addicted person comes before their own needs – sometimes to the point of ignoring their needs entirely.
A codependent person may enable the alcoholic person by making excuses for their behavior or covering up for them with family members or employers. While the codependent person thinks that they are helping their loved one, their loved one's behaviors can actually lead them to continue drinking because there are minimal consequences – if any.
Support groups and therapy can be helpful when learning to cope with codependency. Al-Anon, for example, is a mutual support group for family members of people with alcohol use disorders. Attending Al-Anon meetings can help you break the patterns of codependency while connecting with people who are going through something similar. Working with a therapist can help you gain insight into and work on adjusting codependent behaviors.6,7
Make Treatment Readily Available
After expressing the way you feel in a conversation with your loved one, they may be open to receiving professional treatment for their substance abuse issues. It is helpful to research and outline possible treatment options before you speak with them about their drinking. Gather resources from doctors, counselors, inpatient alcohol rehab, and outpatient centers. You may even choose to talk to a treatment provider in advance about how the admissions process works, whether they'll accept your insurance policy (or will work out a payment plan in advance), and how to explain the program to your loved one.
Going to treatment can be scary and intimidating. If you can tell them about the accommodations, visitation, and amenities ahead of time, they may be more willing to go to treatment.8 Learn more about what alcohol rehab has to offer through alcohol recovery stories from real people.
American Addiction Centers accepts many private insurance policies, as well as some Medicaid policies. To instantly discover whether you or your loved one's addiction treatment program may be covered by your insurance at AAC, enter your insurance information below.
Where Can I Get Help for Alcohol Abuse?
American Addiction Centers (AAC) is recognized as a leading provider of alcohol detox and rehab. Many AAC facilities offer same-day admissions depending on various factors, such as the person's willingness to get help and the capacity of our treatment centers. At American Addiction Centers' nationwide treatment centers, you will find a caring and compassionate team that will help you or your loved one develop an individualized treatment plan. To learn more about the rehabilitation services we offer, visit our addiction treatment centers page. Here, you'll find a nationwide library of professional providers whose services vary in intensity, duration, and more. You may also use our map tool below to locate an AAC treatment center nearest to or most fitting for you.
What to Do if an Alcoholic Doesn't Want Help
It is difficult when the person you love clearly engages in unhealthy drinking behavior or substance use and refuses to acknowledge it or accept help. When denial happens, it is possible that they don't see their drinking as problematic. Helping the person understand the consequences of their actions, and what can happen if they don't get help, can be impactful. Educate yourself on the dangers of problematic alcohol use, as well as treatment and rehab methods, so you can pass this information on to your loved one in a caring and supportive way when the timing is right. Getting clear reasons for why your loved one or friend doesn't want to get help is important. Some reasons may be:
Denial
The Cost of Treatment
Stigmas of Addiction & Embarrassment
If you've discussed rehab and your loved one doesn't want to go, you may consider setting limits and boundaries on your relationship with them. Even if you discuss rehab with your loved one and they don't want to go, you can still research rehabilitation centers for them, just in case they change their mind. You may consider letting the person know you won't make excuses for them any longer or refraining from calling your loved one's boss to let them know they are taking a sick day (when they are really hungover or passed out from drinking). Be clear with your boundaries and expectations, but do not set up any consequences that you are not prepared to follow through with.9
Can You Force Someone to Go to Rehab?
In some states you can force a person into rehab against their will. For example, in Florida, under the Marchman Act, you can have a judge order your loved one into treatment. Families often hesitate to force their loved one into treatment, believing that it works only if the person agrees to go. However, studies indicate that treatment does not need to be voluntary to be effective.8
Other Resources for Your Loved One in Recovery
Numerous resources are available for people struggling with alcohol abuse issues, some of which include:
There may also be recovery resources available in your own community. You may want to inquire with your doctor, any spiritual or religious institutions you belong to, your local veterans administrations, your local gay and lesbian community center, or county or regional healthcare authority.
Educating Yourself on the Disease of Addiction
Learn as much as you can about alcohol use disorders; doing so will help you understand the disease of addiction, not take things personally, and make good choices when taking care of yourself or your loved one.4,7
Alcohol use disorders (AUDs) are complex medical disorders with many interrelated biological and environmental underpinnings. There is currently no cure for AUD, but it is treatable and can be effectively managed.10
However, this doesn't mean you and others can't implement and enforce healthy personal boundaries.
Last, focusing on your own needs is of the utmost importance when helping a loved one recover from unhealthy alcohol use. Al-Anon meetings, individual therapy or counseling, and support groups are all resources that can help you cope with your loved one's addiction or learn more about the disease of addiction.7
Attain more information on how to support yourself or your loved one struggling with alcohol abuse at AAC's toll-free, confidential helpline for loved ones and family members affected by the disease of addiction.
Take Our "Am I an Alcoholic?" Self-Assessment
Take our free, 5-minute "Am I an Alcoholic?" self-assessment below if you think you or someone you love might be struggling with an alcohol use disorder (AUD). The evaluation consists of 11 yes or no questions that are intended to be used as an informational tool to assess the severity and probability of an AUD in a subject. The test is free, confidential, and no personal information is needed to receive the result.
How to Support Someone During Treatment & Recovery
Supporting someone you love who's being treated for unhealthy alcohol use may be a lifelong process. Some days will be hard, and others will be easy. Those who have struggled with alcohol in the past and are now in remission from alcohol use disorder may still spend a considerable amount of time and effort learning how to cope with alcohol use disorder and any other co-occurring mental health condition.
Up to two-thirds of people who enter treatment for an alcohol use disorder experience alcohol relapse at some point in their lives. The good news is that some of those who relapse are able to navigate through it effectively and return to remission, and at least one-third of people never relapse at all.11
Ongoing Support After Treatment
While you are not responsible for another person's recovery, there are things that you can do to support their efforts to get better. For example, with the permission of your loved one, you can accompany them to support groups or refrain from keeping alcohol in your house so they won't be tempted to start drinking again. You can also suggest engaging in enjoyable hobbies or activities together that do not involve drinking.12
Al-Anon meetings are great resources for you and other loved ones to learn how to best support your loved one with an alcohol abuse issue. Al-Anon meetings can also coach you on how (and when) to set healthy boundaries. Therapy, either as a family, by yourself, or both, can also help you navigate recovery with your loved one.
Just remember that if your loved one relapses, try not to panic. Instead, do your best to help them return to treatment quickly so they'll get back on track to long-term recovery. You may choose to help them find long-term treatment or utilize another professional resource. And, most of all, be sure to take the necessary steps to care for yourself and your mental health.
Helping someone with an alcohol abuse problem may be a challenge, but it is possible. More and more resources are becoming available to those struggling with substance abuse problems. The future of addiction recovery is becoming increasingly brighter.