Music-Assisted Therapy Boosts Addiction Recovery
John Fogerty rescued me recently. Down in the doldrums after a nasty breakup, I flipped through the TV channels seeking to amuse my sorry self. Suddenly boom! There was the unmistakable opening beat of "I Heard It through the Grapevine" and then the gravelly tone of this musician's rendition. Thank you, PBS, for airing Fogerty's "50 Year Trip: Live at Red Rocks." It lifted my mood and spirit. There must be something to the power of music.
The broad heath care community thinks so. They agree on the merits of music-assisted therapy to treat a range of medical and mental health conditions, including substance use disorder. When applied, it is not a primary tool. Instead, it accompanies other interventions as a complementary and integrative treatment. It not only helps on its own, but also enhances the full slate of approaches used.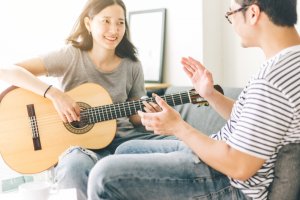 What Is Music Therapy?
Music therapy today is a formal practice. Music therapists are professionals licensed in this specialty. As a foundation for this work, they have strong musical aptitude and capabilities. But also, and importantly, they have training and credentials in this structured practice. They draw upon an array of techniques in their sessions along with measured sets of goals.
In doing so, music therapists sit at the intersection of art and science. They have keen understanding of the interplay of music and treatment. Harvard Health explains it. "Music therapists are usually accomplished musicians who have deep knowledge of how music can evoke emotional responses to relax or stimulate people or help them heal." They have familiarity with an inventory of musical genres and styles to use as needed. They can mix and match and apply what works best in any situation.
How Does Music-Assisted Therapy Work?  
Although music touches our heartstrings, it's all about the brain. Different parts of the brain respond to what we hear, including tone, beat and melody. Medical News Today lays it all out.  "The cerebellum processes rhythm, the frontal lobes decode the emotional signals created by the music, and a small portion of the right temporal lobe helps understand pitch." Who knew all of this goes on as we snap our fingers, sway, stomp, sing or some such? "Music therapy can use these deep physical reactions the body has to music to help people with mental health conditions."
A typical music therapy session may consist of the following:
Listening to music.
Singing.
Moving.
Meditating.
Playing an instrument.
Music-Assisted Therapy in Substance Use Disorder Treatment
The flexibility of music therapy makes it a go-to form of treatment for clients struggling with substance use disorder. It can be applied in a wide range of settings. For example, it works well with clients in intensive inpatient programs. The same goes for other levels, such outpatient on both on an individual and group basis.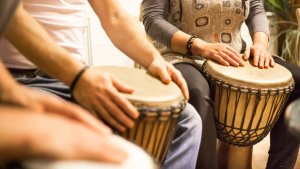 According to American Addiction Centers, there are numerous benefits of music therapy for addiction recovery. It:
Eases stress.
Promotes relaxation.
Increases focus on recovery.
Helps clients adjust to the demands of treatment.
What's more, clients may attain advantages of music beyond scheduled music therapy sessions. "Music can be used privately to enhance mood, help one forget the stressors of the day, and as a distraction technique to deal with cravings and other issues that are commonly encountered in recovery."
What are the main takeaways? Music-assisted therapy is a tried and true form of treatment for a range of challenging conditions. Substance abuse is among them. Although music therapy proves beneficial for addiction treatment, there's something to keep in mind. It is not a substitute for but rather an adjunct to other treatment modalities on the path to recovery.
If you or a loved one is battling substance use disorder, help is available. American Addiction Centers offers a range of programs in locations throughout the country. Contact us today.