San Diego Drug Rehab Treatment Centers
American Addiction Centers offers addiction treatment to those who need help fighting and recovering from
substance use disorders
in San Diego. If you're struggling with addiction in San Diego, learn how to get help near you today.
Substance Abuse Statistics In San Diego
Heroin
,
fentanyl
,
alcohol
, and
prescription drug
addiction are common addiction types in San Diego.
1
In 2017, there were 273 unintentional prescription-related deaths in San Diego County and 7,505 opioid-related visits to emergency rooms.
2
 From 2016-2017 there was a 115% increase of fentanyl-related deaths in San Diego.
1
In 2017, there were 357 alcohol-related deaths in San Diego County. Of those deaths, 127 also involved prescription drugs, 15 involved a combination of heroin and prescription drugs, and 5 involved heroin.3 15,952 adults were admitted into drug treatment centers in San Diego in 2017.1 In 2016, an estimated 125 million opioid pills were sold in San Diego County, which equates to nearly 38 pills per person.4
Why San Diego?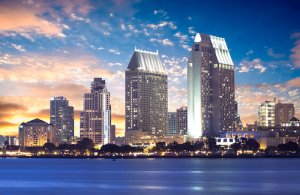 As the second largest city in
California
, San Diego is located about 120 miles south of Los Angeles and just minutes away from Tijuana and the Mexico border. San Diego is home to miles of beautiful beaches, harbors, and a countless number of
fun attractions
including the San Diego
Zoo
,
Balboa Park
,
SeaWorld
San Diego, and Old Town San Diego
State Historic Park
. This coastal city offers residents and visitors a wide range of activities to fulfill interests including fishing, shopping, hiking, surfing, sightseeing, and more.
San Diego has a mild, semi-arid climate year-round, with temperatures that hover above 70 degrees most days of the year. The city's topography is a combination of ocean, hills, mountains, and canyons that lend to a number of different habitats—making San Diego appealing to those who enjoy performing various activities outdoors.
History and the arts are extremely prominent points of interest in San Diego, where people can visit a range of popular museums including the San Diego Museum of Man, the San Diego Air and Space Museum, and the San Diego Museum of Art. Those who enjoy music and live performances can visit the Symphony Towers to listen to the San Diego Symphony or the Civic Center Plaza to watch the San Diego Opera. The La Jolla Playhouse and San Diego Repertory Theatre also deliver a variety of enjoyable plays and musicals.
San Diego prides itself on offering several public transportation options that are both eco-friendly and economical. Buses, waterfront shuttles, pedicabs, trains, and trolleys are popular options for those who wish to get around the city without having to drive a car. The city has an efficient freeway system that makes it relatively easy for people to reach their destinations in a timely manner.
Why Choose American Addiction Centers?
American Addiction Centers offers a nationwide network of facilities, an alumni support system, quality care, and a 90-day promise. If a person relapses after completing 90 days of treatment at an AAC program, they can return for 30 days of complimentary treatment.
Additionally, American Addiction Centers alumni from across the country host fun gatherings and events while alumni coordinators check-in regularly to ensure those recovering from substance abuse benefit from continued support.
Start Your Recovery Today
At American Addictions Centers we focus our treatments around healing the body, mind, and spirit. At our treatment centers we offer a wide range of treatment options and different levels of care to best fit our patients needs on their road to recovery.
You owe it to yourself to work with our experienced team of doctors, clinicians, and counselors to create a one-of-a-kind, constantly evolving treatment plan designed to help you get the most out of your recovery experience. Our goal is to treat the whole person, and that means addressing co-occurring mental illness, physical wellness, social issues, and more.
As Orange County's first chemical dependency recovery hospital, Laguna Treatment Hospital provides research-based clinical and support services for adults suffering with drug and/or alcohol addiction and co-occurring mental health disorders. The hospital has the expertise to care for most patients, including those who are medically compromised and require 24/7 medical care through its unique medical model for addiction treatment.
More Ways to Get Help In San Diego
Sources
Alvarez, J.A. (2018). Record opioid, fentanyl deaths reported in San Diego.
San Diego Prescription Drug Abuse Task Force.
San Diego Prescription Drug Abuse Task Force. (2018). The status of prescription drug and heroin abuse in San Diego County. Rx Report Card, 2018.
Bridgeman Smith, L. (2018). San Diego County's response to the opioid crisis. Statewide Substance Use Disorder Conference.
Last Updated on July 14, 2020