San Diego Drug & Alcohol Rehab Treatment Centers
Instantly find your coverage information.
We'll be able to tell you if your insurance provider is in network with an American Addiction Centers treatment facility.

Drug rehab in San Diego can prove highly effective in helping those struggling from substance abuse issues achieve long term recovery. The city's expansive sober community and multitude of highly specialized treatment programs craft the perfect environment for someone looking to recover from addiction.
Where Can I Find Drug Rehab Near Me in San Diego?
San Diego, California is home to hundreds of drug treatment programs and dual diagnosis treatment centers. American Addiction Center's, Laguna Treatment Hospital, offers medically supervised detoxification services and withdrawal management for people who are chemically dependent on drugs such as alcohol, benzodiazepines, opioids, and stimulants for those who wish to stay close to home in Southern California. Serving quality treatment options to those on the west coast, this treatment center is just a short drive from San Diego and may just be far enough away from familiar triggers and environmental factors that might cause relapse and usage, but close enough for loved ones to visit.
AAC's Rehab Near San Diego: Laguna Treatment Hospital
Laguna Treatment Hospital also offers co-occurring disorder rehab treatment and intensive live-in rehabilitation for those suffering from substance use disorders and other co-occurring mental health conditions. Laguna Treatment Center is easily accessible from metro San Diego by car or rail and is close to some of Southern California's most beautiful attractions such as hiking trails & beaches.
Learn More About Laguna Treatment Hospital
While Laguna Treatment Hospital exclusively offers inpatient residential treatment in Southern California, many San Diego, California drug rehab programs also place emphasis on outpatient treatment.
At American Addiction Centers, you may be able to enter a San Diego drug rehab program immediately and begin your medical detox. If you're struggling with a substance use disorder or an alcohol use disorder, please connect with one of our admissions navigators at
Does Insurance Cover Rehab in San Diego?
Rehab centers in San Diego, California are usually covered by health insurance. For example, AAC's Southern California rehab center, Laguna Treatment Hospital, accepts insurance plans from most large carriers such as Kaiser Permanente, United Healthcare, Aetna, and Anthem Blue Cross. However, what your insurance covers depends upon the specific drug treatment center in San Diego you are considering, their policies, and your needs as an individual.
Outpatient and inpatient rehabs in San Diego may vary in cost and level of intensity. There are also various free rehab options and low-cost, state-funded rehab options for those in San Diego who do not have health insurance benefits and cannot afford ­private pay.
How do I Choose the Best Rehab in San Diego?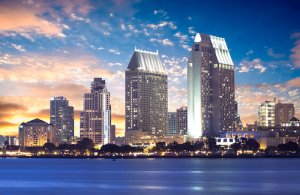 Your best choice for drug and alcohol treatment in San Diego is relative to your personal and clinical needs. However, while looking for an inpatient or outpatient rehab in San Diego, you may wish to abide by some general rules of thumb or take into account certain considerations, such as:
What are my overall clinical and personal goals for attending drug treatment in San Diego?
Might I need a detox center in San Diego to help me safely and more comfortably withdrawal from my drug of choice?
Am I looking to attend a short-term treatment program or long-term treatment program?
Would I prefer an outpatient or inpatient rehab in San Diego?
Am I experiencing any medical conditions that may require 24/7 attention while I recover from substance abuse issues?
Might I have any co-occurring mental illnesses, and does my desired provider offer co-occurring disorder rehab treatment?
Does my dual diagnosis treatment center in San Diego treat my particular mental health condition?
Does my desired rehab offer evidence-based therapies, individual therapy, group therapy, or another specialized therapy I am interested in utilizing?
Does my desired rehab provider accept my health insurance?
More Ways to Get Addiction Help in San Diego
If you or your loved one either cannot afford to attend rehab in San Diego, or simply wish to explore other recovery options, San Diego offers many free support groups and other addiction resources.
For example, the County of San Diego boasts various countywide treatment services that are open to those with Medi-Cal health insurance for rehab and various county-operated programs. For those in need of assistance and treatment referrals, San Diego also has its own free, 24 hour, 7 day a week Access and Crisis Hotline at 888-724-7240 (TTY: 711).
Besides this, San Diego County also hosts hundreds of 12-step meetings, such as Alcoholics Anonymous (AA), Narcotics Anonymous (NA), Al-Anon Family Groups, and more.
Why Choose American Addiction Centers for Drug & Alcohol Rehab?
The ideal San Diego rehabilitation center is driving distance to the San Diego metropolitan area, takes full advantage of Southern California's beauty, and is fully licensed and accredited by all authoritative licensing entities in the substance abuse treatment industry. Laguna Treatment Hospital, AAC's Southern California treatment center, sports each of these elements and more.
Laguna Treatment Hospital is not only a drug and alcohol rehabilitation center but also a registered hospital qualified to treat severe withdrawal symptoms and certain medical conditions. If you're looking for a safe, structured environment to attend rehab in Southern California, Laguna Treatment Hospital is your ideal stay.
American Addiction Centers offers a nationwide network of drug and alcohol rehabilitation facilities, a vast alumni support system, evidence-based therapies, and a 90-day promise. If a person relapses after completing 90 days of treatment at an AAC program, they can return for 30 days of complimentary treatment.
Additionally, American Addiction Centers alumni from across the country host fun gatherings and events while alumni coordinators check-in regularly to ensure those recovering from substance abuse benefit from continued support.
Rehab Centers Near Me
At American Addictions Centers we focus our treatments around healing the body, mind, and spirit. At our treatment centers we offer a wide range of treatment options and different levels of care to best fit our patients needs on their road to recovery. Work with our experienced team of doctors, clinicians, and counselors to create a one-of-a-kind, constantly evolving treatment plan designed to help you get the most out of your addiction recovery experience. At AAC, we treat the whole person, meaning that we simultaneously address co-occurring mental illness, physical wellness, social issues, and more. Explore our facilities below:
FAQs on Rehab in San Diego
Sources
Alvarez, J.A. (2018). Record opioid, fentanyl deaths reported in San Diego.
San Diego Prescription Drug Abuse Task Force.
San Diego Prescription Drug Abuse Task Force. (2018).The status of prescription drug and heroin abuse in San Diego County. Rx Report Card, 2018.
Superior Court of California: County of San Diego. (2020). Drug Court.