Drug and Alcohol Rehab Centers in Oregon
Instantly find your coverage information.
We'll be able to tell you if your insurance provider is in network with an American Addiction Centers treatment facility.
* These fields are required

Oregon is a state in the Pacific Northwest region of the United States, bordered by Washington state to the north, California to the south, Idaho to the east, and Nevada to the southeast.1,2 Of the more than 4.2 million residents of Oregon, 20,264 people attended rehabs in 2020 to address alcohol and drug abuse or addictions.3,4
This article will help you learn more about substance abuse treatment in Oregon. It will explore the locations and costs of rehab facilities in the state, how they address substance use treatment, other resources available in Oregon, how detox is accomplished, what to expect during treatment, and how American Addiction Centers (AAC's) rehab facilities can benefit your recovery. It will also answer questions you may have about how alcohol and drug rehab centers in Oregon are adapting treatment during COVID-19, whether drug rehabs in Oregon offer same-day admission, and how to find the best rehab for you.
Where is Addiction Treatment in Oregon Located?
As of 2020, there were 247 treatment facilities located in Oregon.4 The majority are located along the west coast, clustered around larger cities such as Portland, Eugene, Medford, and Corvallis.5,6 There are also a few locations in the central and northeastern part of the state.5 You can visit SAMSHA's website to find a facility near you in Oregon. Since Oregon borders California, Orange County's Laguna Treatment Hospital in Aliso Viejo is only a quick and inexpensive flight away.
What is the Cost of Rehab in Oregon?
The cost of rehabs in Oregon, much like anywhere else, can vary widely depending on the facility, services offered, your insurance coverage, and your income. However, the majority of facilities in Oregon do accept some form of health insurance, whether it is private or state-funded.4 (p209) According to a 2020 survey of the 247 facilities in Oregon:4
4% accept private health insurance.
4% accept Medicaid.
8% accept a state-funded health insurance plan other than Medicaid.
4% accept Medicare.
9% accept federally-funded military insurance.
4% accept Indian Health Service/Tribal funding health insurance.
If you don't have health insurance, there are other options available in Oregon. Many facilities will work with you to create a payment plan to make the fees more affordable. Nearly all facilities (94.3%) accept cash or other forms of self-payment, while 70.4% provide treatment on a sliding scale, adjusting fees based on your income.4 Additionally, more than half (54.7%) of facilities can provide treatment at very low or no cost for people who cannot afford to pay for services.4 AAC's Laguna Treatment Hospital also accepts a wide range of private health insurance plans from large companies such as Kaiser Permanente, Blue Cross Blue Shield (BCBS), TRICARE, United Healthcare, and many others.
Does Insurance Cover Drug & Alcohol Rehab in Oregon?
Yes, a majority of rehab programs in Oregon accept forms of in-state and out-of-state insurance plans. AAC's nearby Southern California rehab, Laguna Treatment Hospital, is in-network with Anthem Blue Cross and many other insurance companies, such as Kaiser Permanente, United Healthcare, and more. AAC also offers a self-payment option and may work with patients to set up affordable payment plans if necessary.
Do Rehab Centers in Oregon Treat Alcohol and Drug Addiction?
Oregon treatment centers treat all forms of addiction, including alcohol and drug addiction. Some facilities specialize in treating a specific substance or a certain population of people who struggle with addiction. Most, however, are more general and treat a wider range of people and addictions to various substances. The primary substances treated in Oregon include alcohol, methamphetamine/amphetamines, opioids of all types, marijuana, and cocaine.7
Common Oregon Rehab and Addiction Statistics
The most recent data on substance use in Oregon shows that:4,8,9,10
There were 247 facilities in the state in 2020.
20,264 people attended in-state rehab in 2020.
Drug overdose deaths increased in 2020, with an almost 70% increase occurring in April and May compared to the previous year.
There were 580 fatal overdoses between May 2019 and May 2020; 339 overdose deaths occurred between January and June 2020.
Illegal fentanyl and methamphetamine are contributing significantly to this rise in fatal overdoses, with increases shown for cocaine and heroin as well.
Many overdoses are a result of the use of multiple substances.
Find Drug & Alcohol Rehab Centers Near You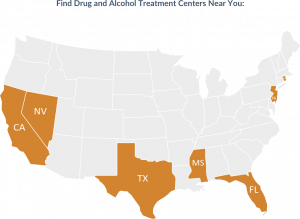 FAQs About Addiction Treatment in Oregon