Nevada Drug & Alcohol Rehab Treatment Centers Near You
Instantly find your coverage information.
We'll be able to tell you if your insurance provider is in network with an American Addiction Centers treatment facility.

Drug rehab in Nevada provides a local solution to those seeking substance abuse treatment for themselves or someone they love. If you or a loved one is ready to take the first step toward recovery, let American Addiction Centers (AAC) guide you through your rehabilitation process.
Where is Treatment Located in Nevada?
You can find Nevada rehabilitation centers in many larger cities, including Las Vegas, Reno, Henderson, Paradise, and Spring Valley. However, many other rehab centers are also located throughout the entire state of Nevada.
AAC's Desert Hope Treatment Center is conveniently located 10 minutes from McCarran International Airport in Las Vegas, NV for all people struggling with substance use.
Desert Hope Treatment Center in Las Vegas, Nevada
American Addiction Centers' Desert Hope Treatment Center is located in Las Vegas, Nevada. Las Vegas is a large metropolitan city in southern Nevada. At Desert Hope, you'll enjoy the beautiful weather, multifaceted treatment programs, and various substance abuse treatment modalities. Desert Hope Treatment Center is only 10 minutes from Las Vegas International Airport.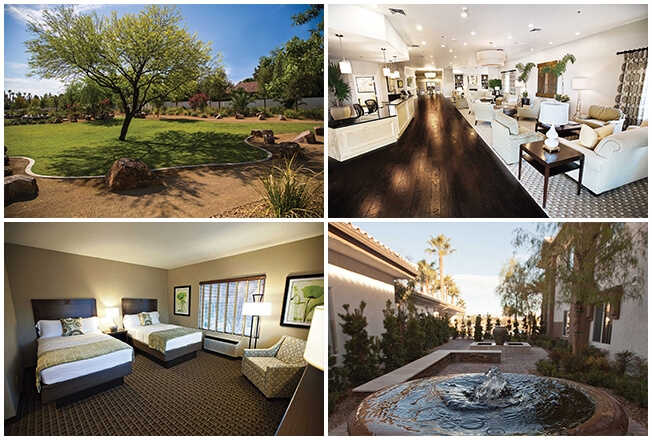 During the COVID-19 (aka coronavirus) pandemic AAC is available to answer questions about addiction and treatment options. Our Nevada facility, Desert Hope Treatment Center, is open and accepting patients and has medical experts and a caring staff who will stand by you on your journey to recovery.
What is the Cost of Rehab in Nevada?
The cost of attending an addiction treatment center in Nevada varies between treatment center, client, and services offered. However, most Nevada drug rehabs accept some form of private or state-funded health insurance. For addiction treatment providers that don't accept insurance, they often provide other payment options, such as payment plans for private payments.
Many facilities accept more than one type of payment. Among them, 48.1% offered a sliding scale payment method and 51.9% offered services at a reduced rate or for no charge to those who are uninsured and don't have ready access to funds.3
Desert Hope in Las Vegas accepts many private insurance plans offered through large, well-known companies like Kaiser Permanente, United Health, Humana, Anthem, and more. We also offer other payment plan options if you don't have insurance.
The exact cost of Nevada drug addiction treatment varies from person to person depending on whether they require short term or long term rehab and the level of treatment they require.
Do Rehabs in Nevada Treat My Addiction?
Yes, treatment centers in Nevada treat all forms of addiction, including drug and alcohol addiction. No matter what type of substance addiction you are struggling with, most Nevada rehabs are equipped to help you manage it.

Although these are the most commonly-treated addictions in Nevada, Nevada rehab centers are able to treat numerous other addictions including cocaine, sedatives, hallucinogens, and inhalants.
Some Nevada rehabilitation centers offer medication-assisted treatment, or MAT, to those struggling with addiction to opioids and alcohol. Twenty facilities in Nevada provided methadone/buprenorphine maintenance or naltrexone treatment in 2018, including Desert Hope Treatment Center. 3 These medications are often helpful as a short-term or long-term solution to addiction, serving as a way to blunt difficult withdrawal symptoms and curb cravings for drugs.4
Other Ways to Get Help & Nevada Rehab Resources
Nevada has a wealth of free and community-based resources for people who are dealing with a substance use disorder. If you live in Nevada and are struggling with an SUD, you may find value in one or more of the following organizations:
Take Our Substance Abuse Self-Assessment
Take our free, 5-minute substance abuse self-assessment below if you think you or someone you love might be struggling with substance abuse. The evaluation consists of 11 yes or no questions that are intended to be used as an informational tool to assess the severity and probability of a substance use disorder. The test is free, confidential, and no personal information is needed to receive the result.
Common NV Rehab & Addiction Statistics
6,630 people aged 12 and older were admitted to Nevada drug rehab centers in 2015 for all causes.2 Among this population: 2,003 were admitted for methamphetamine abuse, 1,553 were admitted for alcohol abuse, and 1,171 were admitted for opiate abuse; this includes heroin and other opiates.2
People aged 25 to 29 comprised the largest age demographic of people seeking Nevada addiction treatment in 2015 for all causes. People aged 30 to 34 years measured in at a close second.2
Males were admitted almost twice as much as females to Nevada drug rehabs in 2015.2
4% of Nevada drug addiction facilities offer outpatient services.3
7% of these facilities provide Methadone/buprenorphine maintenance or naltrexone treatment.3
9% of Nevada drug addiction facilities offer residential (non-hospital) services, while 7.4 % of them have detoxification treatment services.3
1% of Nevada drug addiction facilities offer hospital inpatient services.3
Find Addiction Treatment in Near Me in Nevada
To find a Nevada rehab, call American Addiction Centers at Your designated specialist will listen to your story and help you determine the next best steps to treating your addiction. If you wish, you may also use our free insurance checker to verify whether your insurance is accepted at our Nevada rehab center before speaking to an admissions navigator.
Find Drug & Alcohol Treatment Centers Near You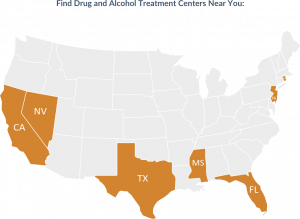 FAQs About Drug & Alcohol Rehab Treatment in NV

Sources