Addiction Treatment in Texas
Whether you live in Texas or are interested in traveling to Texas for rehab, you probably want to know more about what it's like to get treatment there. The following are some typical questions people have about substance abuse treatment in Texas.
Do Rehab Centers in Texas Treat My Addiction?
In 2015, more than 37,000 adults received addiction treatment in Texas.1
The 5 most common drugs people seek rehab for in Texas are:
Alcohol.
Marijuana.
Methamphetamine.
Heroin.
Cocaine.1
Almost half of the treatment centers in Texas treat patients with co-occurring disorders.
But drug and alcohol treatment centers in the state can treat many other types of substance use disorders including addictions to prescription drugs (painkillers, sedatives, stimulants).
Almost half of the treatment centers in Texas also treat patients with co-occurring disorders such as anxiety, depression, and post-traumatic stress disorder. Over 70% provide counseling for trauma.2
AAC's programs in Texas help people struggling with addiction using a combination of individual therapy, family therapy, and group therapy. Types of therapies found in our Texas programs include cognitive behavioral therapy, dialectical behavior therapy, motivational interviewing, and rational emotive behavior therapy. We also use medication-assisted treatment, which combines therapy with medication to treat alcohol and opioid use disorders.
At AAC, we're available to talk to you right now, give us a call at to learn more about our programs in Texas. If you are unable to talk right now leave your number in the box below and we'll call you.
Where Are Treatment Centers Located in Texas?
Rehab centers in Texas are largely found near major metropolitan areas such as Dallas-Ft. Worth, Houston, San Antonio, and Austin.
As of 2017, the state had 431 treatment centers, including:2
362 outpatient programs.
108 residential programs.
41 hospital inpatient programs.
During the COVID-19 (aka coronavirus) pandemic AAC is open and available to answer your questions about addiction and treatment options. AAC offers residential treatment, partial hospitalization, intensive outpatient treatment, and recovery residences at Greenhouse Treatment Center. We are located within about a 20-minute drive from the Dallas/Fort Worth (DFW) International Airport.
Get directions to our facility
.
Do Texas Rehabs Accept My Insurance?
More than 60% of Texas rehab facilities accept private insurance.
More than 60% of Texas rehab facilities accept private insurance, and more than half accept Medicaid. About 90% accept cash and self-payment.2
Insurance coverage depends on the provider and plan. In some cases, a person's insurance will fully cover the cost. In others, it will only partially cover treatment, only cover particular types of care, or only cover care for a certain length of time.
Our rehab facility in Texas is located in a spa-like setting with luxurious amenities, such as indoor and outdoor pools, a fitness center, and chef-prepared meals.
AAC in Texas offers medically supervised detox services, evidenced-based therapies, and different levels of care to help patients with various severities of addiction. We are capable of treating people with co-occurring mental health disorders and patients with special medical conditions.
As a patient at our Texas facility, you're entitled to our 90-day promise. If you complete 90 days of treatment with us, we guarantee you'll stay clean or sober. If you relapse, you can come back for 30 more days of treatment on us.
Learn more about our brand promise
.
Popular Cities
What to Expect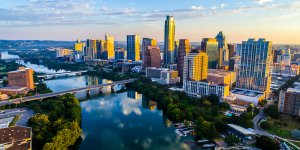 Some people coming to Texas from out of state may not be familiar with the culture. In general, Texans tend to be friendly, approachable, and helpful (and quite proud of their state). While the state is known for such things as BBQ and rodeo, it is very large, diverse, and not easily categorized. Its major cities (Houston, Austin, Dallas, and San Antonio) offer many cultural and recreational opportunities, and are home to several major sports teams.
The climate in Texas varies from semi-arid to sub-tropical. Average annual temperatures range from 52 degrees in the Texas Panhandle to about 68 degrees in the Lower Rio Grande Valley.3
The climate around our facility in Dallas tends to be fairly warm most of the year. The temperature ranges from a high of 55 degrees and a low of 33 in January, to a high of 95 and a low of 73 in August.4
Consider packing the following for a rehab stay in Texas (many centers have a dress code so check with them before packing):
2 pairs of shoes.
T-shirts.
Pants.
Shorts.
A nice outfit if the center allows outings.
Socks.
Underwear.
Bathing suit, if the center has a pool.
Pajamas.
Sweatshirt/hoodie.
Coat or jacket, depending on the time of year.
Belt.
Slippers or flip-flops.
Here are some other items you may want to consider packing:
A small amount of cash.
A list of all medications.
Driver's license or identification.
Journal or notebook.
Insurance information.
Alarm clock.
Toiletries.
Laundry detergent.
Photos of loved ones.
Names, phone numbers, and addresses of family and friends.
Some programs allow you to bring other items such as electronic devices, nail clippers, and razors, cigarettes, and chewing tobacco. Ask them before you pack these. Patients at our facility in Texas may bring electronic devices, and we provide free Wi-Fi to patients and guests.
In addition to packing, make sure you handle other important matters before boarding your flight or getting in your car to head to your program, such as:
Childcare or pet care.
Time off from work or school.
Bill payments.
Saying goodbye to friends and loved ones.
Some programs can drive you to the facility from the airport. In other cases, you may have to provide your own transportation. One of our AAC staff can meet you at the airport and transport you to our facility.
If you're interested in addiction treatment in Texas, reach out to us today at . We have staff standing by 24/7 to take your call.
Other Ways to Get Help
Sources
[1]. Substance Abuse and Mental Health Services Administration. (2017). Treatment Episode Data Set (TEDS): 2005-2015.
[2]. Substance Abuse and Mental Health Services Administration. 2017 State Profile—United States and Other Jurisdictions: National Survey of Substance Abuse Treatment Services (N-SSATS).
[3]. Texas Water Development Board. (2012). Water for Texas 2012 State Water Plan.
[4]. Climate-data.org. Climate Dallas.
Last Updated on July 14, 2020