More Insurance Coverage Information
What type of health insurance coverage is out there?
Close to 91 percent of Americans had health insurance in 2014. Depending on the plan specifics, those with insurance can use that coverage for:
Inpatient care in an approved facility
Outpatient care with an approved provider
Medical detox, including medications
Co-occurring mental health conditions
Follow-up counseling
Maintenance addiction medication
Health insurance was once considered a bit of a luxury.
People with tight budgets and low-paying jobs may not have had the extra cash they needed in order to buy expensive health care plans, so they tried to save up enough money to allow them to get care for problems deemed life-threatening. Anything else went unaddressed. Often, that meant addictions went untreated. For people without health insurance, getting medical care for addiction was just too expensive to consider.>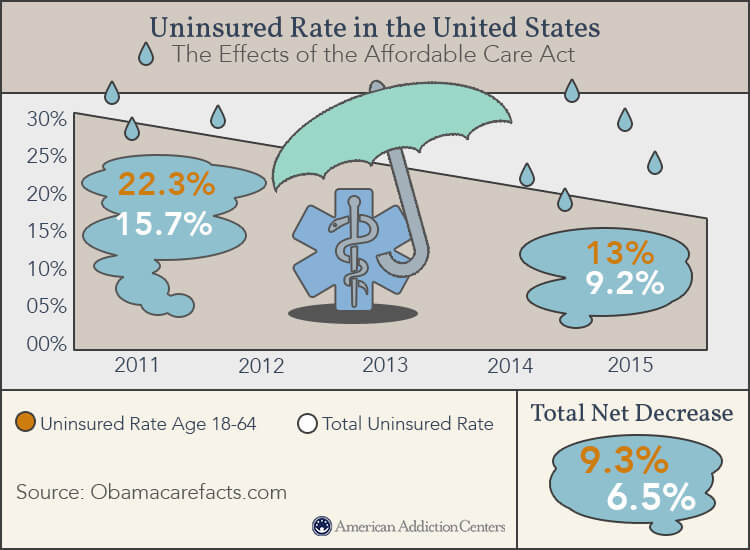 Much of that changed with the passage of the Affordable Care Act. Now more people than ever before have health insurance. In fact, according to the Kaiser Family Foundation, only 13 percent of Americans didn't have health insurance in 2014. Everyone else had the coverage they needed to deal with health problems. Those plans typically include coverage for mental illnesses and addictions, although there are limits and specifications to pay attention to in order for families to get the real benefits they need at the right time.
Disclaimer
The amount of coverage or insurance acceptance is based on the insurance policy that each client is covered by. This means out-of-pocket expenses will vary. Please contact American Addiction Centers for help determining what and where your plan covers.
The largest health insurance providers in the nation include:

As mentioned in Forbes