AmeriHealth Insurance Coverage for Drug and Alcohol Rehab Treatment
Types of Addiction AmeriHealth Insurance Typically Covers
How Does AmeriHealth Insurance Coverage Work?
How Much Will I Pay Out of Pocket?
AmeriHealth Substance Abuse Coverage
How to Check AmeriHealth Rehab Coverage
Sources
AmeriHealth serves over 265,000 people and has been providing health coverage to people in New Jersey and Pennsylvania since 1995. It offers HMO, PPO, POS, workers' compensation,
Medicaid
, and
Medicare
plans.
1
AAC is in-network with many insurance companies. Depending on your policy your addiction treatment could be covered.
Types of Addiction AmeriHealth Insurance Typically Covers
AmeriHealth plans offer coverage for most major addictions. The typical types of addiction that are covered are:
Cocaine.
Methamphetamine.
Heroin.
Opioid painkillers, such as oxycodone.
Benzodiazepines, such as Xanax or Klonopin.
Alcohol.
Marijuana.
Stimulants, such as Vyvanse or Adderall.
Most treatment programs treat a wide variety of addictions, including the ones mentioned above, though some may specialize in a particular type of substance abuse treatment.
The company must first determine that your treatment is medically necessary before they will agree to pay benefits.
How Does AmeriHealth Insurance Coverage Work?
If you have coverage with AmeriHealth, the company must first determine that your treatment is medically necessary before they will agree to pay benefits. This process is known as preauthorization, and it can happen before or after you are admitted to the program.
If you and your treatment provider disagree with a decision to deny authorization for substance abuse treatment, you can ask for reconsideration of this decision.
Your particular AmeriHealth plan may also limit:
In addition, not all forms of treatment may be covered by your AmeriHealth plan, including equine therapy, music therapy, hypnotherapy, or other treatments.
How Much Will I Pay Out of Pocket?
You will usually have some out-of-pocket costs for treatment services. While the amount you pay depends on your specific plan, many people have a set deductible, which is the amount of money you are expected to pay before your AmeriHealth coverage begins. Once AmeriHealth starts paying after you have met your deductible, they typically cover a set amount, depending on your specific plan. You will then have to pay the remaining amount.
Co-pays are fixed amounts that you pay for services, and coinsurance is a fixed percentage of treatment costs that you are responsible for paying. Co-pays can be required before or after a deductible is met, while coinsurance is required after you meet the deductible.
Most plans also have an out-of-pocket maximum, which means that after you pay the stated amount through your deductible, co-pays, or coinsurance, AmeriHealth will cover the remaining costs.
What if My Provider Is Out of Network?
AmeriHealth, like most insurance companies, has a network of providers with whom they have agreements for the cost of services provided to plan members. These are known as in-network providers, and if you use one, your costs for treatment are usually less.
However, you may prefer to receive treatment from an out-of-network provider. If so, you need to discuss the costs and payment options with the provider. Many out-of-network providers will set up a payment plan with you, and sometimes they are able to negotiate an in-network rate with AmeriHealth.
AmeriHealth Substance Abuse Coverage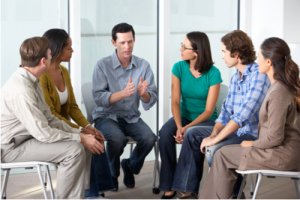 Most AmeriHealth plans cover substance abuse treatment of some type. The types of treatment vary in intensity and frequency. The usual forms include:
It's difficult to know what type of treatment you will need without a full assessment by a substance abuse treatment professional. Your situation is unique, and many factors will determine what type of treatment program is the right fit for you or your loved one. Some of the factors that are considered when determining treatment needs include:
Typically, AmeriHealth plans cover the standard set of services for substance abuse treatment, including:
How to Check AmeriHealth Rehab Coverage
To find your best treatment options for addiction, first verify your benefits. We can then help you choose the best program based on your coverage and specific needs.
To verify your benefits, call an admissions navigator at (888) 966-8152, use the chat feature, or fill out our benefits verification form. Regardless of how you contact us, it is all completely confidential.
Sources
[1]. AmeriHealth. About AmeriHealth.
[2]. American Psychiatric Association. (2013). Diagnostic and statistical manual of mental disorders (5th ed.). Arlington, VA: American Psychiatric Publishing.
Last Updated on May 28, 2021
Start your recovery today.
American Addiction Centers can help you get the care you deserve.