Arizona Rehabs: How to Find Rehabs in Arizona for Addiction
Instantly find your coverage information.
We'll be able to tell you if your insurance provider is in network with an American Addiction Centers treatment facility.
* These fields are required

There are a variety of rehabs in Arizona that are ready to provide evidence based and quality care to treat addictions to drugs and alcohol. In Arizona, approximately 16.9% of the population used an illicit drug in the past year, which is slightly higher than the national average of 14.7%. It is believed that 10.2% of the population in Arizona has a substance use disorder, compared to 9% of the US population.1 If you or your loved one are among these Arizona residents who find themselves in need of treatment for addiction, you can find more information on this page about your options.
If you live in Arizona, your treatment options are not limited just to Arizona, as there are numerous rehab facilities nearby, including Laguna Treatment Hospital in Orange County, California, or Desert Hope in Las Vegas, Nevada. Both are a short drive from Arizona and can offer you excellent treatment for alcohol and drug disorders.
Ways to Get in Contact With Us
If you believe you or someone you love may be struggling with addiction, let us hear your story and help you determine a path to treatment.
There are a variety of confidential, free, and no obligation ways to get in contact with us to learn more about treatment.
Call us at There, you can talk to one of our admissions advisors where we can answer any questions, verify your insurance coverage, and address any other questions you might have about treatment for you or a loved one.
Fill in our online insurance verification form below to find out if your insurance provider may be able to cover the cost of treatment. Our admissions advisors may contact you thereafter to discuss your options.
Where Are Rehabs in Arizona Located?
Located in the southwestern United States next to California, Arizona is home to over 7 million people,2 The state has more than 400 drug rehab centers for treating substance use disorders. Most of these rehab facilities are located in populous areas such as Phoenix and Tucson.3 Laguna Treatment Hospital, although not in Arizona, is only a short drive from most areas of the state.
AAC's Desert Hope Treatment Center is conveniently located 10 minutes from McCarran International Airport in Las Vegas, NV for all people struggling with substance use.
During the COVID-19 (aka coronavirus) pandemic AAC is available to answer questions about addiction and treatment options. Our Nevada facility, Desert Hope Treatment Center, is open and accepting patients and has medical experts and a caring staff who will stand by you on your journey to recovery.
What is the Cost of Rehab in Arizona?
The majority of Arizona rehab centers accept private insurance or state-funded plans. Many also accept Medicare or Medicaid. Overall, approximately 69% of Arizona rehab centers accept private insurance.3 Many Arizona-based private insurance plans, such as Kaiser Permanente, United Healthcare, and others, are accepted at Laguna Treatment Hospital.
However, people with no insurance coverage have other ways to pay for drug rehab in Arizona. Around 86% of the state's rehab centers accept self-payment, and some 53% will take sliding scale fees — meaning you pay what you can afford based on your income. Another 46% of Arizona facilities take state-funded insurance.3
The exact cost of Arizona drug addiction treatment varies from person to person depending on whether they require short term or long term rehab and the level of treatment they require.
Do Rehab Centers in Arizona Treat Alcohol and Drug Addiction?
Rehab centers can and do treat addiction to many different substances, including various drugs and alcohol. In Arizona, the abuse of prescription drugs is higher than the national average,1 and Arizona statistics show that over 1,100 people died in 2018 of an opioid overdose, with deaths from synthetic opioids, such as fentanyl, doubling from the prior year.4 Methamphetamine has been declared the biggest concern for substance use in Arizona; around 40% of all people seeking treatment at some rehab programs test positive for methamphetamine.5
While there may be some Arizona rehab programs that focus on one type of addiction, this is usually not the case. Most programs treat whatever substance abuse is presented by their clients.
Common Arizona Rehab and Addiction Statistics
The state has 407 rehab programs with 340 outpatient programs.3
Methamphetamine is the most commonly cited illicit substance noted for treatment admissions, followed by marijuana.7
Alcohol is the most common primary substance among treatment participants.7
Find Drug & Alcohol Treatment Centers Near You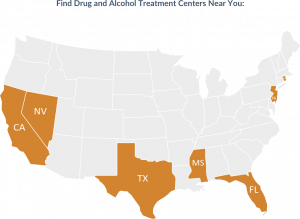 Take Our Substance Abuse Self-Assessment
Take our free, 5-minute substance abuse self-assessment below if you think you or someone you love might be struggling with substance abuse. The evaluation consists of 11 yes or no questions that are intended to be used as an informational tool to assess the severity and probability of a substance use disorder. The test is free, confidential, and no personal information is needed to receive the result.
Frequently Asked Questions About Arizona Rehabs