BCBS of Louisiana Insurance Coverage for Drug & Alcohol Rehab
Check your insurance coverage
With the form below, we will confirm what benefits are available under your specific plan. Your information is confidential and protected under HIPAA privacy rules.

Check to see if your insurance is in-network at an American Addiction Centers location
We'll instantly check the coverage offered by your insurance provider.
You may receive treatment at one of our facilities at a reduced rate.
Does BlueCross BlueShield of Louisiana Cover Rehab?
Blue Cross Blue Shield of Louisiana (BSBCLA) may be able to cover all or at least part of the cost of rehab for drug or alcohol addiction. This will depend on your plan details and the level of care you need. Even if you have insurance coverage in Louisiana, you may still be covered to attend rehab in another state.
Finding a treatment facility or rehab program is an important step in getting help for a substance abuse problem. Sadly, in Louisiana, there were 2,218 reported drug overdose deaths from April 2020 to April 2021.1 If you or a loved one is struggling with addiction, check your level of coverage with BCBS of Louisiana to find out exactly what you will and will not be covered for. Bear in mind, coverage will depend on your individual plan and the state you live in.   
Verify BCBS of Louisiana Coverage
If you have BlueCross BlueShield of Louisiana, there are two ways to verify your coverage for drug or alcohol rehab.
Call us today at There, an admissions advisor can hear your story, walk you through your options, and verify your insurance over the phone.
Fill in our online insurance verification form below.
About BCBS of Louisiana
Blue Cross Blue Shield (BCBS) is a nationwide insurance provider that may cover rehab for drug and alcohol addiction depending on your plan and individual needs. BCBS of Louisiana is an independent licensee of the BCBS Association. BCBS Louisiana began in 1934 when six area hospitals formed the nonprofit mutual insurer Hospital Service Association of New Orleans.2 Today, BSBCLA serves 1.8 million Louisianians offering individual, family, as well as Medicare plans.3,4 These may include PPO, POS, and HMO plans. BCBSLA offers the following plans:4
Select Networks.
BlueSaver.
Blue Point of Service.
Blue Max.
Bridge Blue.
Each plan varies on the out-of-pocket costs, deductibles, premiums, and other variables.
What Rehab Programs do BlueCross BlueShield of Louisiana Cover?
BlueCross BlueShield of Louisiana may be able to cover substance use disorder treatment. Depending on your plan, BCBSLA insurance may cover at least part of the cost of:
Medical Detoxification – Detox is the process of getting rid of the harmful substances in your body. A patient may undergo medical detox, which aims to minimize withdrawal symptoms and prevent potentially harmful side effects.
Inpatient or Residential Rehab – In a residential or inpatient facility, a patient will stay at the center 24/7 and receive counseling from addiction specialists. Inpatient treatment is generally recommended for individuals who may have potentially negative home environments and want to focus solely on their sobriety.
Outpatient Rehab Treatment – This type of addiction treatment is more flexible as it does not require you to stay overnight or live at the rehab facility. You will receive treatment in different settings such as a mental health clinic, rehab center, or hospital for a certain number of hours per week.
Intensive Outpatient Program (IOP) – Patients will continue with their daily routine of going to work or school as they do not require 24/7 medical supervision. This type of treatment is ideal for those who have supportive home environments but still need intensive treatment for substance abuse.
Partial Hospitalization Program (PHP) – Also known as day treatment, PHPs are hospital-based and patients will receive more hours of treatment each week than in an intensive outpatient program.
Before you enrol in an addiction rehab program, always check what your Blue Cross Blue Shield of Louisiana plan will and will not cover. You may find that you will have to leave Louisiana to attend a treatment facility that is right for you. This should not stop you from getting the help you need.
Does BCBS of Louisiana Cover Co-Occurring Disorder Treatment?
Co-occurring disorder treatment such as treatment of depression or anxiety as well as addiction treatment may be covered under mental or behavioral health services. Depending on your level of coverage, mental health treatments may at least be partially covered. If you have a co-occurring or dual diagnosis, your unique diagnoses will be considered and certain therapies or medications may be used in the treatment process.
It is common for those with substance use disorder (SUD) to also have a mental health condition and many rehab facilities offer integrated treatment to ensure an individual's unique treatment needs are met. If you have BlueCross BlueShield of Louisiana, check the level of coverage you have for a co-occurring or dual diagnosis disorder.
Not Sure if You Need Rehab?
Take our free, 5-minute substance abuse self-assessment below if you think you or someone you love might be struggling with substance abuse. The evaluation consists of 11 yes or no questions that are intended to be used as an informational tool to assess the severity and probability of a substance use disorder. The test is free, confidential, and no personal information is needed to receive the result. This assessment can be used if you are in or outside the state of Louisiana.
Our Treatment Centers Near You
Sources
Centers for Disease Control and Prevention. Drug Overdose Data. (subject to ongoing updates).
BlueCross and BlueShield of Louisiana. Company History.
BlueCross and BlueShield of Louisiana. About Blue.
BlueCross and BlueShield of Louisiana. Shop Health Plans.
Rehabs That May Accept This Insurance
American Addiction Centers (AAC) owns and operates facilities at various locations nationwide to provide you or your loved one addiction and mental health care.
---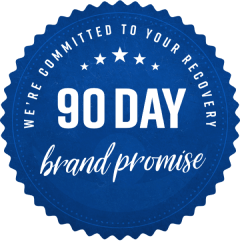 We're committed to your recovery
When you invest and successfully complete 90 consecutive days at an American Addiction Centers facility, we believe that you have created the most solid foundation for your long-term goals of sobriety.
In the event that you experience a relapse, you are welcome back for a complimentary 30 days of our treatment*
Learn about our brand promise
*Terms and conditions may apply, and results may vary.
---
---