The Power of Positive Thinking
Positivity can serve as a powerful tool in addiction recovery. In addition to surrounding yourself with sober people and building a solid support network, reciting daily affirmations can help keep your sobriety on track and steer you away from relapse. Here are some tips and suggestions for creating your own mantras and practicing positive thinking in recovery.
The Science Behind Daily Affirmations
Studies show that positive thinking can have a profound effect on mental health and that self-affirming thoughts in particular can produce feelings of happiness and well-being. When you praise yourself with a positive affirmation—even one as simple as "I love myself" or "I am worth it"—it activates the reward center of the brain and generates feel-good emotions. When done on a daily basis, you'll develop muscle memory for positive thinking over time, making it easier to get through challenging situations without turning to a drink or a drug.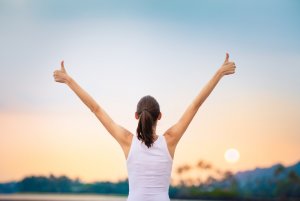 Using Daily Affirmations
One of the easiest ways to begin incorporating positive thoughts into your recovery routine is to pick up a daily affirmations book. Daily Reflections is a popular AA-approved option, but there are many different kinds out there, including ones for women. These books provide inspirational messages for every day of the year, giving you something to read and reflect on each morning.
You can also come up with your own short, self-affirming statements (i.e. "I am successful," "I am strong," "I can take care of myself") and add them to your desktop or smartphone calendar. Or attach them to your mirror with a Post-it note. There are even free apps you can download that will automatically send you an empowering affirmation each day.
Making Mantras Effective
When creating your own personal mantras, there are some basics to consider. Affirmations are most powerful when they're written or recited in the first person and only use positive words. For example, try to avoid saying "can't" or "won't." Keep the focus on yourself and concentrate on general qualities you wish to harness, whether it be self-esteem, confidence, willingness, or openness. While affirmations can (and should!) be applied to all areas of your life, here are some suggestions that can be especially helpful for addiction recovery:
I am brave.
I am worth it.
I am good enough.
I am getting stronger each day.
I am worthy of happiness.
I believe in myself.
I am learning and growing.
I am willing.
I am not defined by my mistakes.
I choose faith over fear.
Positive Thinking & Perspective
Practicing positive thinking in recovery does not mean you have to pretend you're feeling fine when you're not. It doesn't mean minimizing the very real challenges of staying sober either. It's about actively loving and respecting yourself despite the difficulties you may be facing. That includes asking for help! If you're struggling with your recovery, American Addiction Centers is here for you—reach out to us today.