The Challenges of the Firefighter Wife
The firefighter wife or partner faces significant challenges.
Among the most highly visited blogs a few years back was one titled "18 Years of Being a Firefighter's Wife: Lessons I've Learned," written by Stacie, a Firefighter's Wife. Years after Stacie posted her 2009 "Lessons," the post's comment area continued to be an internet magnet for the significant others of firefighters. Clearly, in 2009 those living the firefighting lifestyle were searching for a way to share coping strategies.
Firefighter Dan Mercer and his wife Lori experienced this need first hand, very early on in their marriage. Ten years of marriage later, Lori wrote a blog post revealing just how difficult a firefighter marriage was, and the responses poured in with comments like, "We aren't the only ones" and "Finally, someone who understands what we have gone through in our marriage."
This need to hear from others dealing with the challenges of the firefighting lifestyle drove Mercer to go beyond just a blog. She created a support community so firefighters and their partners had someone to turn to, and she began firefighterwife.com to provide a place for that support community. Since then, the site has grown into a thriving hub of programs, events, and support.
A glance across the fire wife blogosphere will show commentary that suggests it's easy to become bitter. At the top of firefighterwife.com's "Marriage" page, Mercer fires off a list of challenges that can stress firefighter families:
---
"Long hours at the job. A 'second family.' Stressful calls. Sleepless nights. PTSD. Interrupted communications. Your schedule not matching the rest of the world's. Missed holidays. The list goes on."
---
Very few wives will say "I signed up for this."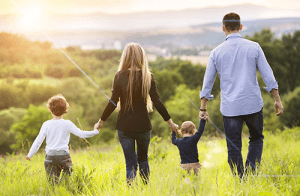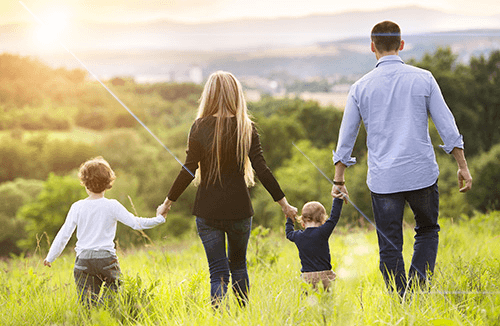 In her Firefighter Nation blog, fire wife Susie Young brought up the subject of unfaithfulness: "You are now competing with the groupie. They come out of the woodwork." Her post met with abundant agreement in the comments that followed.
Another common challenge for firefighter wives is dealing with the firefighter's emotional "distance." It can feel like being shut out, even though there are good physiological reasons a firefighter may appear so distant. Physiologically, exposure to danger puts the brain on autopilot, raises blood pressure, and suppresses the digestive system. This is an abnormal state, built for the quick bursts needed to make a successful fight or flight, and it's potentially harmful over sustained periods. So when the danger passes and the firefighter returns home, the body has to stabilize.
In her Fire Engineering article "What Every FireFighter's Spouse Should Know," Anne Gagliano cited a 2008 study by Dave Grossman and Loren W. Christensen in describing how the firefighter's abnormal danger-facing state impacts emotion.
"It is especially important for spouses to be aware of the effect that occurs after the adrenaline wears off; this leaves firefighters completely exhausted. At work, they are alive, alert, energetic, and involved. When they come home, the after-effects may set in, and they may be tired, detached, isolated, and apathetic. The greater the demand at work, the greater the possible backlash at home, debilitating them for family involvement, which, if misunderstood, may be destructive to intimate relationships."
As a result, the role of the fire wife can seem very lonely, at times. She goes from maintaining the house physically alone, to managing her intimate relationship emotionally alone. This explains why the fire marriage can often find itself under duress. The goal of firefighterwife.com is, in Mercer's words, "Less divorce. Stronger fire wives."
Many firefighter husbands say their safety is not a stressor for their wives, and some of their wives might agree. But this isn't necessarily true, entirely. Mercer explains how that works: "Yes we go on with our responsibilities. We aren't frozen in fear and worry. But sometimes it sits there in your mind until you know for sure all is well."
The reality of this type of stress is that it stems from quite a mixture of feelings, not all of them good for the firefighter or the marriage. Mercer:
There is a stark reality of life and death in [the firefighter's] world. We sometimes take for granted that most families don't sit around the dinner table talking about auto extrication or cardiac saves or the heroin overdose that day. Of course it's exhilarating to know that your firefighter was on that big fire or helped extricate someone from a terrible auto accident. When you finally hear their voice or see that text that everything is ok, there is great relief for all involved. What we often underestimate is the energy we exert as we wait in anticipation of the good outcome. On top of keeping things rolling at your job or at home, you've got something extra on your mind. Why haven't I heard back from him?
Mercer also addresses the issue of when and how to maintain contact.
"Even just trying to have a small conversation while your firefighter is at the station can increase the stress. Some firefighters are gone 24, 48 or even longer shifts and some conversations just can't wait. If you've had one of those days where your activities don't match up to their free time at the station, you've suddenly got a list of 7 things you must decide together, all while hoping the tones don't drop again. From conversations about the note that came home from the teacher to decisions about finances and what bills to pay when to even fun decisions – our friends want to know if we're free to hang out on Friday. It definitely takes some good task management and efficient communication just to keep family operations rolling without adding extra stress."
A community of fire wives, comparing notes can help individuals optimize the everyday processes that come with being a fire wife. That strengthens the individual for the big moments. Mercer:
"Having a community of other people who understand what you're going through is a great way to get through these moments. It also takes the burden off of your firefighter who needs to be focused on the job and not worried about communicating back to you. Our community of Firefighter Wives provides this kind of supportive discussion when you are in one of those 'why am I extra worried this time?' moments."
Much is made of the divorce rate among firefighters. Look around your firehouse, Mercer says, and ask who has been divorced. Estimates of the divorce rate run as high as 50%. Even its most conservative estimate, a divorce rate of around 14%, makes preventing unnecessary breakups worth some effort. To that end, Mercer has instituted a private support community for wives called the Fire Wife Sisterhood as well as Flame Fest, a getaway weekend for Firefighters and their significant others.
The site also features a Fire Wife Academy, membership forums, and many other programs and tools.
Responding to comments, Stacie, a Firefighter's Wife suggested that mothers with young children could also look at MOPS, a faith-based organization for mothers of preschoolers (the website has a locator tool for finding "a group near you"). But even with MOPS, difficult scheduling can make it hard for the firefighter's wife to be part of the community.
"It's super hard when your kids are little," Stacie consoles a distraught first-year wife. "I think it will get easier."
When fire wives draw strength from a community, they're in a better place to support their firefighter through rough times. Mercer:
"I believe every firefighter who has ever experienced a difficult call has experienced some form of PTSD. As a spouse, knowing your partner is hurting emotionally is not easy to see. Yes communicating together is a huge help for this situation. Just being a listener and a safe place for the firefighter to land and adjust is helpful."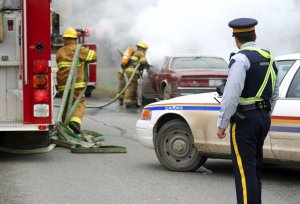 With a community, and a willingness to put in the work, the payoff comes in deep bonds and connection between fire spouses. Arguably, this makes the firefighter relationship even richer than the sometimes longed-for relationships of those "normal" families.
"The stories shared with a spouse about difficult calls, and saves they couldn't make, are powerful, intimate moments," Mercer says. "Just as [the firefighter was] made to be in that place and moment to save that life, the spouse was made to be their safe place to recover. Those aren't responsibilities that come in every marriage."
Featured Articles