How Much Will I Pay Out of Pocket?
You will usually have some out-of-pocket costs for treatment services. While the amount you pay depends on your specific plan, many people have a set deductible, which is the amount of money you are expected to pay before your AmeriHealth coverage begins. Once AmeriHealth starts paying after you have met your deductible, they typically cover a set amount, depending on your specific plan. You will then have to pay the remaining amount.
Co-pays are fixed amounts that you pay for services, and coinsurance is a fixed percentage of treatment costs that you are responsible for paying. Co-pays can be required before or after a deductible is met, while coinsurance is required after you meet the deductible.
Most plans also have an out-of-pocket maximum, which means that after you pay the stated amount through your deductible, co-pays, or coinsurance, AmeriHealth will cover the remaining costs.
What if My Provider Is Out of Network?
AmeriHealth, like most insurance companies, has a network of providers with whom they have agreements for the cost of services provided to plan members. These are known as in-network providers, and if you use one, your costs for treatment are usually less.
However, you may prefer to receive treatment from an out-of-network provider. If so, you need to discuss the costs and payment options with the provider. Many out-of-network providers will set up a payment plan with you, and sometimes they are able to negotiate an in-network rate with AmeriHealth.
Types of Addiction Treatment Options AmeriHealth Health Insurance Typically Covers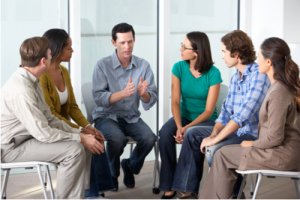 Most AmeriHealth plans cover substance abuse treatment of some type. The types of treatment vary in intensity and frequency. The usual forms include:
Detox, where you are monitored during withdrawal from drugs and/or alcohol and receive medical care or medication, as needed.
Inpatient or residential treatment, in which you reside at the treatment facility while participating in a structured program of individual and group therapy, supplemental activities, and 12-step meetings. Many inpatient treatment settings facilitate access to medical care.
Partial hospitalization, where you attend treatment up to 4 to 6 hours per day, 5 days per week, though some programs meet up to 7 days per week. Partial hospitalization programs have many similarities to inpatient treatment, as you attend group sessions and have regular sessions with your doctor, nurses, and counselors. However, you go home at night. You may attend partial programs as a step-down from inpatient or residential programs, or partial hospitalization may be the first stage of substance abuse treatment.
Intensive outpatient programs (IOP), where you attend sessions for 2 to 3 hours per day, 2 to 3 days per week in most programs. An IOP may be your initial course of treatment, or it may be a step down from either partial hospitalization or inpatient treatment.
Outpatient treatment, where you attend sessions with a counselor, either individually or in a group, usually only once a week for about an hour. Often, this form of treatment is a follow-up to more intensive types of substance abuse treatment, such as inpatient, partial hospitalization, or an IOP. It can be the first type of treatment for some people.
It's difficult to know what type of treatment you will need without a full assessment by a substance abuse treatment professional. Your situation is unique, and many factors will determine what type of treatment program is the right fit for you or your loved one. Some of the factors that are considered when determining treatment needs include:
Your overall physical health. If you have medical issues, you may be better suited for inpatient, rather than outpatient treatment.
The type of drugs you are using. If you are dependent on alcohol or benzodiazepines, it can be dangerous to stop using these substances without medical supervision, as doing so can trigger a seizure.2
The amount of drugs you are using, and how long you have been using them. More severe addictions often require higher levels of care.
Whether you have an addiction to one substance or several. Having an addiction to more than one substance makes your detox and rehab more complex, and increases the likelihood that you would need inpatient treatment or partial hospitalization treatment, instead of outpatient care.
Co-occurring mental health issues, such as depression, bipolar disorder, or suicidal thoughts. This situation may require a program that offers dual diagnosis treatment.
The number of times you've been in treatment before. If you have not been able to stop using drugs after attending outpatient treatment previously, you may need to go to an inpatient program.
Your home environment, which is a concern if you live where drugs are being used. An unsupportive home environment with numerous triggers, stressors, and/or opportunities to use could make it more difficult to abstain while attending an outpatient or partial hospitalization program.
Typically, AmeriHealth plans cover the standard set of services for substance abuse treatment, including:
Assessments, including medical and substance abuse assessments.
Medications.
Therapy, whether it is group, individual, or family.
Costs of staying at an inpatient or residential facility, including lodging and meals.
How Do I Get Started?
To find your best treatment options for addiction, first verify your benefits. We can then help you choose the best program based on your coverage and specific needs.
To verify your benefits, call an admissions navigator at (888) 966-8152, use the chat feature, or fill out our benefits verification form. Regardless of how you contact us, it is all completely confidential.
Sources
[1]. AmeriHealth. About AmeriHealth.
[2]. American Psychiatric Association. (2013). Diagnostic and statistical manual of mental disorders (5th ed.). Arlington, VA: American Psychiatric Publishing.